Understanding Bloomz Premium vs. Free Options
by Horacio Ochoa, on Aug 1, 2018 6:05:38 PM
As the new year approaches and many more teachers are signing up for a Bloomz account to boost their parent communication at their classroom or school, we've been receiving a few questions about how our Free and Paid subscriptions work, so we thought of addressing some of these here, in hopes it helps everyone get clear about what's included in each.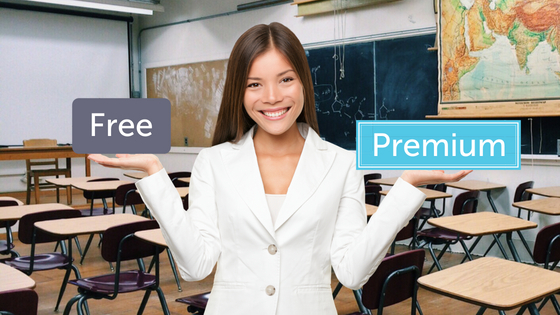 A couple of initial clarifications are needed:
Free accounts are not going away! Everyone signing up for Bloomz, whether a parent or teacher, have the ability to sign up for a Bloomz account at no cost.
Premium accounts are necessary. We love teachers and parents, and we love what we do every day to help connect them. This is why we want to make sure we do this for many years to come! Finding a way to create a sustainable business is part of this trip we are taking. But, we'll do it while we still offer you a robust and free app to use in your school, at the same time we give you the option for a premium experience when possible.
We are here for you. We understand that, while everyone is well intended and wants us to succeed, it's not always possible to pay money for everything a teacher needs. Don't worry, we're here for you. Please, keep on reading or skip below.
With all that said, here are the basic differences of our free vs. paid accounts:
For Teachers:
Teachers can always sign up for a free account with Bloomz, create their classroom and start communicating with parents - there are no limits on how many teachers can create a free account in their school! The major limitations for a free teacher account are the following:
Membership: A free teacher account will support two teachers, one room parent per class and up to 300 students. No limits on number of parents. Classrooms of free accounts cannot have a class admin.

A Premium subscription has no limits on teachers, room parents, class admins or parents per class.

Class count: A free teacher account can belong to up to 8 classes.

A Premium subscription has no limit on number of classes per teacher.

Storage: A free teacher account will only support 1GB of storage for media and documents shared with their classroom. In order to make this simple for teachers, we've estimated that on average, you'll cover this quota with 125 photos, videos or files shared, so this is how we'll track and enforce storage. You will also be able to delete these files to create more space. UPDATED: Due to increased usage of student portfolios in remote learning, portfolio items will be included in your storage limit. Please notice, student portfolios will not count for this quota, so you can use this feature without concern of hitting your limit.

A Premium subscription has no storage limit.

Parent Premium (details below) is not included in a free teacher subscription.

Parents of a Premium Teacher class are automatically upgraded to the Premium subscription too.

Other Premium features: We are always improving our free and paid accounts, however some of the sweetest upgrades are added to the premium subscription only.

Premium features include reports, photo captions, premium calendar views and others.
More details on the Teacher Premium subscription are located here.
For Parents:
Invited parents are never blocked from creating an account and start receiving communications from their teachers at no cost. In order for Bloomz to support free accounts for the high parent user population, we have implemented certain limitations in high-cost, high-frequency activities related to their media usage.
Media resolution: Parents on a free account can always see pictures and video shared in their classroom, however the resolution in most cases will be reduced (e.g. photos with print resolution only).

A premium parent account will receive the media in full resolution as shared.

Media downloads: a free Parent account cannot download media (photo or video) on their mobile device, only on their browser/computer, and individually.

A Premium parent subscription has the ability to download multiple pictures, full albums and video on a mobile device.

Media Sharing is not available on a free parent subscription.

Premium parent subscribers can share pictures with other applications from their mobile device.
More details about our Parent Premium subscription are located here.
For School Administrators:
<Updated> A quick call with our team will provide school administrators with all the information they need to get on a Premium School account, including pricing and trial periods (when available). Benefits of our School Premium subscription include:
Membership: A premium subscription has no limits on the number of teachers, staff or any other a school can have.
Storage: Premium school accounts have unlimited storage so your teachers can share as many pictures, video and documents as they need.
Parent and Teacher Premium: Premium school accounts inherit premium to all members of their community, including parents and teachers.
Other Premium Features: Premium features include SIS/Bulk import (including Clever integration), data dashboard, premium support and more!
More details on the school premium subscription are located here.
* One Final Note on Competition:
It's been brought to our attention that other competitor apps may offer their products for free, and while some of that is true, it's not the whole story. Most if not all apps out there have a premium offering for additional features or school-wide implementation or both. By our own research and estimations, having all the functionality that Bloomz has to offer would cost teachers and schools even more:
Messaging app ~$4 per student per year (for example: Remind)
Student Portfolios app ~$5 per student per year (for example: SeeSaw)
Behavior Management app ~$120 per teacher per year - about $5-$6 per student on average (for example: Class Dojo)
This doesn't even include the additional functionality for volunteer signups, parent teacher conference registrations or calendar, plus the added hassle of parents going from one place to another trying to find the information they need.
Bottom line: feature by feature, Bloomz is the app that provides the most value of all, with the added convenience of having all your parent communication in one place only.
Thank you for reading!
The Bloomz Team