5 Benefits To Using Bloomz In Remote Learning
by Jude Miqueli, on Aug 7, 2020 2:33:28 PM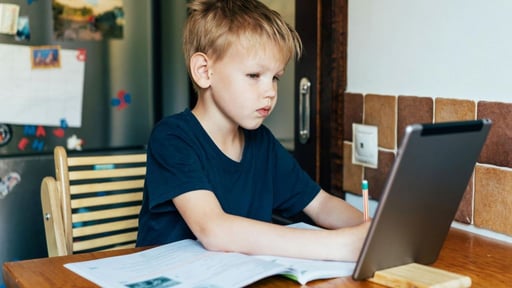 Welcoming students and families virtually while supporting physical and social-emotional needs as we transition into the fall 2020 school year is on the top of our minds as educators and educational technologists. With Bloomz, teachers have the ability to create a community of care. Thinking wider, principals have the capacity to create a network of care. Expanding out even further to families across a state, superintendents and districts have the power to create a whole system of care. This is needed more than ever right now as we think about the trauma students have endured as COVID-19 spread around the world. We know that there is a difference in achievement between students with families who are highly engaged versus those who are not. We have our challenges to face with the upcoming school year and we must make it our duty to keep communication to families clear and consistent. There isn't much to feel certain about in regards to the upcoming school year but one thing that comforts me as an educator is Bloomz has proven to be an award-winning app year after year, including "Best Parent-Teacher/School Communication App or Tool" by Tech Edvocate two years in a row. I firmly believe it is the only app a school needs for connection, communication, and coordination.
Staying connected is essential. When the building closure hit in March Bloomz pulled through to be the most important force in my classroom community. From getting pertinent information fast with alerts to troubleshooting developmental appropriateness of Zoom meetings and kindergarten needs, the one thing my class community could hold on to during the most uncertain time was our direct line of communication. Bloomz was in my pocket when the district went dark which meant my classroom communities and their families were supported.
While a few teachers in my school used Bloomz others didn't. This proved to be a problem as remote learning took off. There were too many tools and districts were quick to try one, implement it building wide, only to pull back and say it was inappropriate. This year we have time to plan. Bloomz is the one stop shop for everything a school and district needs to support families, teachers, and students.
Here are 5 benefits I experienced using Bloomz in remote learning.
Wider Support Net For Students
I was able to add babysitters, grandparents, aunts and tutors to students' guardian lists in a pinch. With email communication from schools it can be a longer process to get a student's greater system of care involved because they have to be cleared with extensive paperwork to get on the all school email. When teachers use Bloomz they can quickly add a caregiver to a student's profile upon parent/guardian request. This was essential in helping families during that all hands-on deck moment in March.
Contact With After School Groups
The Puget Sound Girls on the Run Bloomz group we started earlier in the year was able to communicate and share vital information as the building closure occurred and throughout the rest of the school year. Without Bloomz groups it would have been hard as a classroom teacher to virtually connect with students outside of my grade level. It was comforting and helpful to have the opportunity to share our experiences via posts, comments, and messages. We shared virtual Girls on the Run events and program updates.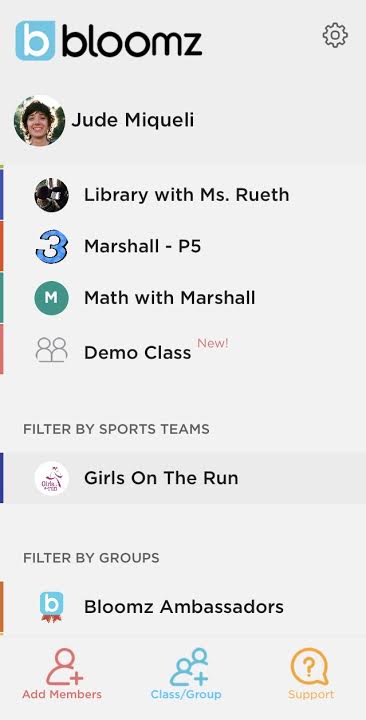 Parent Feedback Surveys In One Place
Where'd that email go with the survey? Did your parent group want to give feedback months ago but didn't have time or see the email with the survey? I posted a survey link on my newsfeed asking how many live sessions families would prefer each week to gauge what felt developmentally appropriate for kindergarteners. I also pinned a whole school survey at the top of my newsfeed in the Announcements to learn more about parent preferences. With so much information coming through email and busy parents working while homeschooling, having that feedback survey pinned to the top helped families find it within the daily flow of information.
Virtual Open Office Hours
In my Bloomz calendar I created a reoccurring "Virtual Open Office Hours" every Wednesday on Zoom. That proved to be THE BEST place for weekly feedback and connection. I was able to tweak instructional practices based on live parent feedback as well as feel a sense of community and comradery. Some parents showed up regularly while others came when they had one question. All thanked me for having a consistent open door policy. Find out how to create a repeating calendar event on the Bloomz FAQ page.
Syncing Calendars
Streamlining communication to families is essential. To keep everyone, including myself, up to date on school-wide events and meetings I synced my school's website and Schoology calendar with my Bloomz classroom. Important dates and events my administration planned were being communicated to my class families with this feature.
If you are interested in Bloomz check out their website for resources to get started. Do you have a story involving Bloomz and remote learning? Please share in the comments below or tag us on social media @Bloomzapp #Bloomzapp
Resources:
Getting Started As A School Admin.