6 Ways to Boost Engagement Within Your Parent Community On Bloomz
by Laura Briggs, on Mar 30, 2017 4:23:37 AM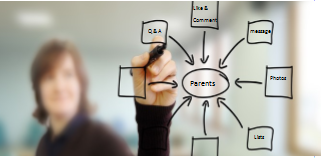 As teachers, we want to make sure that we are creating a welcoming environment where parents feel at ease to contact us for any reason about their child. In most cases, we are not in contact with parents on a daily basis, and so establishing relationships and trust can be challenging. Teachers have many outlets to reach parents- email, phone, in person, notes, etc. But parents are limited in how they can get a hold of teachers. Hence one of the many reasons Bloomz was created.
Now that you have chosen Bloomz as your method of parent communication (which is a great choice by the way), you may still be wondering "how do I build relationships and engage my parent community?" And, while Bloomz provides easy ways for parents to reach their teacher (they can like posts, comment, message you and more), sometimes parents feel uncomfortable using what they see as "The Teachers Page" to add ideas of their own.
In other cases, teachers start out on Bloomz and it organically becomes a one-way dissemination of information. And some teachers prefer to use it in this way - Bloomz gives teachers the ability to turn parent communication off. But we have seen some amazing thriving communities where parents are active contributors to their classroom pages. Could this be something you are striving for?
Here are six ways teachers can actively engage parents in Bloomz - There are many more ways, and we would love to see your ideas in the comments below.
Simply ask parents to like and or comment on your posts- This has two direct benefits to the teacher. You will have a running record of who has seen and digested the information you post, as well as quickly engages your users. If they open the app and like something, chances are they will be more apt to contribute, and check out other things on your page.
Send parents a message- Try sending your weekly or monthly updates as a private message. Once an individual message is started, it is saved, so when you need to send a quick note, it is right there. Parents can now will quickly message if they are running late, or if their child will be absent, or even if they have a quick question. This also gets messaging going as the teacher needs to be the first to start a private message so the parent can reply. At the beginning of the year, this could be a welcome message. Through out the year, there will always be times that a student has done well. Students would love a positive message to be sent to their parents and will work toward that goal as well.
Hold a Q&A- Parents love being able to have a forum where they can ask questions. Choose a subject such as parenting, study habits, organization, unit topics, etc. and use your planning time to host! Just create an event in advance so parents know can block out that time, and when you are ready, create a post. Share (again) what the topic will be, lay your ground rules, and have parents ask questions in the comments!
Photo Sharing- Invite parents to upload pictures to albums of any school/class wide community event. That way you will have a robust photo library for parents to access as well as for the yearbook!
Parent Volunteers- Schedule parent volunteer opportunities in Bloomz for which parents can sign up. Repeating events or one time needed time slots can be chosen by parents. This keeps the teacher and parents organized with reminders too.
Lists!- Parents love lists! Share your top children's books. Things to do around town for the weekend. Then invite parents to share any that they feel you missed. Sharing resources is one of the best ways to gain contributions as well as get some great ideas for yourself!
With these simple additions your class Bloomz experience, you should be well on your way to a thriving, contributing parent community!