Bloomz Goes to FETC Virtually!
by Laura Briggs, on Jan 26, 2017 8:42:22 AM
Did you know th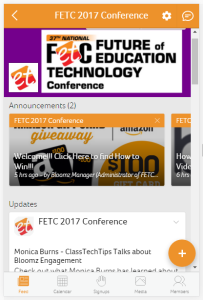 at the Bloomz App has many uses beyond being used in Schools? In addition to schools and classrooms, Bloomz can be used by clubs, sports teams, church groups,Boy and Girl Scouts, neighborhood community groups and even for Professional Development.
FETC attendees and other educators who join the FETC 2017 Group in the Bloomz App will be able to share resource links, photos, videos, as well as strategies and activities for integrating technology into learning. For each resource shared, the author gets a chance at winning a $100 Amazon Gift Card.*
Some of the engaging topics at the FETC Conference include Makerspaces, Augmented and Virtual Reality, Coding, App Smashing, Early Childhood Tech, Robotics, Games for Learning, Creation Apps, Flipped Classroom and PD, Problem Based Learning, Mobile Learning Apps and Devices, STEM/STEAM, Digital Citizenship, and more…
Join in for the fun and resources! Add your conference contacts to the app and reach them easily for conference chats and meetups. Add your Facebook page to the app and as you post in the group, you can post to Facebook at the same time.
Joining the FETC 2017 Conference Group Using Group Access Code - Inside the App
Already a Bloomz user and you have a Group Access Code to join a new group?
Please follow the steps below to join the group -
Click on

+ Add/Join Group

in the left navigation tray

Enter the

Group Access Code

in the

Enter Access Code text box - FETC17 is the Group Code

Click Next

Click

Join Class

You will see the

Feed

screen of your group.

You have successfully joined the FETC 2017 Conference Group

.
Posting Updates and Sharing Photos, Videos, and Files with the Group
Here's how you can post updates or share photos and videos with group. The photos shared through posts will be automatically saved in the group album!!! You can also attach files to your update using the web version (Desktop) on a laptop or computer.
Tap on the

+ icon

in the bottom right corner of the Home screen.(iPhone/Android only)

Tap on

+Create

button in the top right corner of the Home screen (Desktop)

Click

Post

in the drop down menu

Click in the

To field

Select the group to which you want to make the post.

Tap

Done

.

The group name is seen in the To field.

Input text in the

Title

and

Body

of the post form.

Websites and text go here

.

Tap

Photos or Video icons

at the bottom menu if desired.

Select the photo or video you want to post.

Tap Attach Files (This option is available only in browser)

Select the file you want to attach.

Click

Post

.
We hope to see you in the FETC 2017 Conference Group!

Let us know what other edtech conferences you attend in the comments below!