Bloomz Teacher of the Week- Karyn Nagle
by Bloomz, on May 22, 2015 10:48:41 AM
When my family was faced with the thought of me going back to work full time after having our second kid, the only word that comes to mind is panic. What were we going to do with our oldest? We looked and looked for aftercare programs that would fit. Our son is not the easiest kid in the room, and it takes a really amazing teacher to be able to read him- and gain his trust. Nothing was jumping out at us as THE place. Until we came across Timberlake Aftercare. Checking out the staff bio's, there was one that literally made my husband and I do a happy dance. It was as if this teacher had studied her whole life to finally meet our son. We knew after finding Timberlake and Ms. Karyn that we were right where we were supposed to be.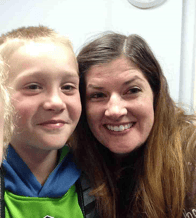 As you can tell from this picture, I am pretty sure we made the right choice....
I sat down with Ms. Karyn and asked her a few questions-
Why did you become a teacher?
I have education influence in my family from elementary to college professors. I have gone through times of absolutely hating school other times loving it and wanting to learn more and more. A teacher can have you hate school or love it… I want the kids to have an experience like that. Seeking out learning, have a great experience. Be one of the reasons they look back and loved school.
Your most satisfying teaching moment?
I have this kid and he is so resistant to math. When I got him to actually sit down and do it was awesome. I have always have unconventional teaching jobs… I love being able to connect with kids in a way that they feel like it's their home away from home. That they feel safe. When I see them for the first time each day and they run up to show me something or tell me something… it's the best.
Funny story you can share?
I once saw all of this liquid coming down from the bench that this kid was sitting on. He was a first or second grader and totally potty trained. I was paralyzed thinking- oh my goodness- how do I deal with this? How does he have that much pee in him? How am I not going to embarrass him…. but then I noticed it was a drink next to him. I was laughing so hard I had to turn away.
Favorite children's book?
The Chronicles of Narnia. My mom read them to me growing up.
What made you gravitate toward Special Education?
I was in a severely autistic class. I am very interested in teaching kids how to learn. I am a super empathetic person. If I see someone struggling with something, I want to help in a genuine way. I never want them to feel bad or be embarrassed. I just have a big heart.
Advice for parents?
Don't be hard on yourself. Don't feel like you have to be perfect to anyone- the school, kid, teacher, etc. As an educator I want to humbly come along side parents helping out where I can. Work as a team with your teachers, they want to help.
Advice for new teachers?
Don't try to do it all on your own. Get a mentor or two who are willing to take you under their wing, and don't feel like you need to be perfect.
What do you like best about Bloomz? How has it helped you?
I like being able to see other teachers post pictures of moments that I didn't get to participate in. That glimpse you get in pictures- the funny faces, and cute smiles are awesome.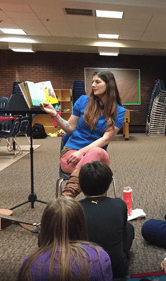 Karyn Nagle has a special education teaching credential and a masters in education. She has taught special education and science in after school programs. She originates from Southern CA but feels truly at home here in Seattle Wa. She loves soccer, cooking, being outside as much as possible with her Labrador retriever. She also plays guitar.