by Jude Miqueli, on Feb 7, 2018 12:11:13 PM
Last week the latest Bloomz premium feature rolled out! Teachers are excited to share Engagement Reports with colleagues, administrators, and principals. It's astounding to look at how much I've connected with my classroom community and we're only halfway through the school year!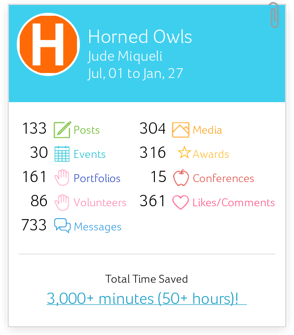 If you have an evaluation or contract renewal coming up now is the right time to communicate your involvement with your class parents. This is an impressive document and a way to prove professional development as well as the incorporation of technology in your classroom instruction. What are you waiting for? Send this to your superior! Not only is it an excellent and useful source of data but it is a way to communicate your success in an eco-friendly manner.
These reports are available now on desktop for all premium subscribers. Availability for mobile devices will come in the near future. Graduating to a premium account will add features and functionality to your Bloomz experience. In addition to the Engagement Report, my personal favorite premium feature is the calendar monthly and weekly views. You can subscribe to the Bloomz Teacher Premium by going to your account settings, and clicking on Upgrade Now at the top (more information is available here).
If you already have a premium account we'd love it if you'd share your Engagement Report on social media this week. Post it in the Bloomz Teacher's Facebook Group, Instagram it, or Tweet it out @BloomzApp with the hashtag #BloomzSavesTime. To download your report just click share and email it to yourself.
How does Bloomz save you time? Feel free to comment in the section below.