Class Codes Are Here! (And Right On Time For Back To School)
by Horacio Ochoa, on Jul 31, 2015 9:06:04 PM
Here at Bloomz, we love listening to feedback from our customers - we like to hear the good, the bad and the ugly (OK, maybe the bad and the ugly aren't that fun, but we still want to hear them). And we don't just listen, once we hear feedback loud and clear, we promise to act on it.
One of the most requested features we've heard is to allow parents to join a classroom via a unique class code - this is because some parents don't look at their email often enough to know that they received an invitation to join the classroom. Well, we've been hard at work on a solution and today we've made good on our promise - and I am happy to share with you that we just launched an update to our app that includes Class Codes!
With this new feature, teachers can send parents a unique class code they can enter when signing up for Bloomz or when joining a new class. And with the new school year upon us, it couldn't be timelier! Teachers can now use this code at parent night or send home a printed sheet with the code (wait for it... we also provide this sheet directly from the app!).
Here is how this feature works*:
1. You may be familiar with how to invite parents to your classroom (just click on "invite" on your main menu and select the class/group). At the bottom of the invite options screen, we added the option for "Class Access Code"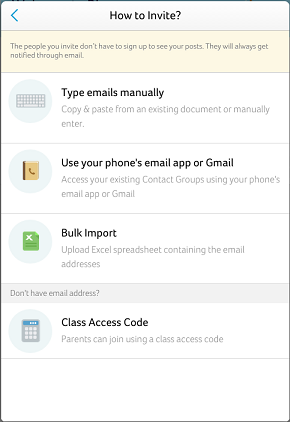 2. Clicking on "Class Access Code" will enable the code and take you to the screen below. Here you can copy the code, or download a pretty PDF sheet with the code and instructions you can share with parents.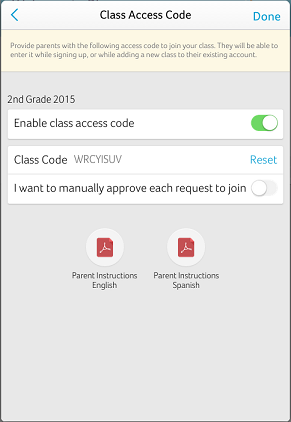 Three things to note here:
In this screen, you can always disable the class code if/when you don't need it.
You can also reset the code, to generate a new one if needed.
And, you can determine whether you want to approve anyone using the code to join your classroom (yes, privacy is very important for all of us).
Done! Now you have your class access code. It is that simple!
And for parents, it will be just as simple:
1. When they first sign up, or when they want to join a class, they will be prompted to enter an invitation or class code: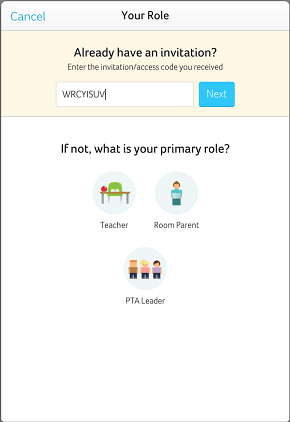 2. After they enter the code, they are automatically added to the class once they finish their account creation:
That's it! Simple, right?
But don't worry, if you still liked our invitation by email method, you can still do it. Nothing changed there, you can send invitations via email to your classroom parents and they will receive a unique code for each one of them (different from the class code) that, once they use, it cannot be shared or re-used. They will also start receiving notifications the moment you add them to your classroom.
Do you like this new addition to our app? Please tell us what you think in the comments section below. And stay tuned, there's more to come as we are lining up for the start of the new school year!
* Functionality on Android phones is currently limited to only joining a classroom with access code. Full functionality will be coming soon.