Community Event Planning - How to go from crazy to cake! (Literally)
by Bloomz, on Nov 18, 2015 12:15:09 PM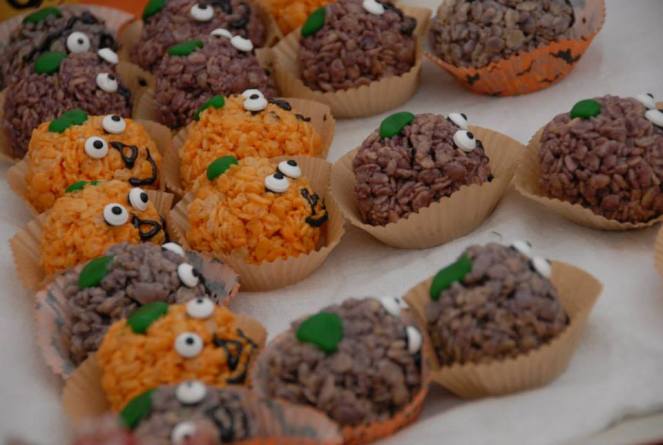 My son at last years Harvest Fest. We ended up with two goldfish. This and chicken. Children are the best at naming pets.
Every year at our school we hold a Harvest Fest Community Event. It is one of our biggest events of the year. We bring in over 100 pumpkins to the playground for our own pumpkin patch. We decorate the school with scarecrows. We build a hay maze out of the unused straw. We have a treasure hunt in the sandbox. And we set up a carnival complete with winning a goldfish and a cake walk. It is pretty spectacular… and a huge pain to plan and organize.
Our Head of School LOVES the cakewalk. It is literally her favorite thing we do all year. She is adamant that the cake walk happens, and the day of- you can bet that is where she is hanging out. Now- we have around 200 students enrolled from infant through 6th grade. That is a lot of cakes!
In order to have enough for as many families as possible, we ask parents to volunteer to bring a cake or other treat. Every year it is so hard to manage on top of actually planning the event. We put it in the newsletter, send home flyers, send reminder emails, etc. We tried many things over the years- just having people show up with cake in hand, send a form back to school with their child saying how many cakes they were willing to bring, having a sign up in the office, email the office, and more. Still we always end up closing the cake walk early… We had super happy kids walking around with their newly acquired treats, and super sad kids because they didn't get a chance to win those spider cupcakes they so desperately wanted.
We needed a new system. Bad. One that was an effective way to reach parents that they would actually see and respond to, and took the owness off of the staff to manage. There is always too much other stuff to do!
Then Bloomz came into our lives. Harvest Fest is this Saturday. The Head Of School wanted me to ask for 100 cakes when creating the Bloomz event. I thought she was crazy. 100 cakes is over double the amount of the best cake walk year. In my mind there was no way we would see people commit to 100 cakes. But guess what….. the volunteer request is fulfilled! It was full over a week before the event! And all I had to manage was adding the event to our school's Bloomz calendar.
I can't tell you how awesome, incredible, stunning, unbelievable, fascinating, marvelous, shocking, surprising and wonderful (all the synonyms for amazing in thesaurus.com) and easy this was to manage this year. Now I can work on my cake walk strategies so I can win those Oreo Truffles Carol is bringing!