Fast and Easy Mother's Day Gifts to Send to Moms in Bloomz
by Laura Briggs, on May 10, 2017 5:56:44 PM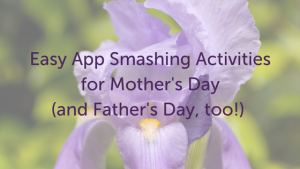 Did you imagine you can use Bloomz to help students celebrate Mother's Day? Yes, we know Sunday is almost here, so even if your students have already created a gift or card, you can have them take a photo of it and share it on their student timelines/portfolios to be published the day of.
Now, here are a few other fast and easy activities that can be sent in Bloomz as a keepsake for your students' moms. But you could be to use these activities for Father' Day - or any time really! You can tell your students they will be app smashing, i.e. putting several apps together to create a product.
---
Up first, is a fun web-based activity that can also be used on a device. Design flowers with symmetry and many combinations of colors using the Kaleidoscope Painter. Create design and save it, and then upload to Bloomz Student Timeline to send to the parent. Some examples are below!



---
Up next is a fun and easy way to incorporate text, photos, and video with special touch spots over a photo. Using Thinglink and then adding the project link to a Bloomz Student Timeline post. Check out this video on the steps for creating this and click the spots This is an example of the project: Mother's Day ThingLink
---
Last up, is a fun photo collage with stickers using the PicCollage app. Have students take 4 or more photos of items their mom would like, pieces of their art work, flowers, etc. and add them to the collage. Choose a layout, background, and stickers. Then save to the camera roll. The last step is to upload to Bloomz Student Timeline to send to the parent. A cute example is below.
Please feel free to add your Mothers' Day project ideas in the comments below.
We hope all moms have an enjoyable day coming up this weekend.