New Webinar Series: Bridging the Communication Gap in Education Today
by Bobbi Jones, on Nov 8, 2021 9:18:47 AM
As we are transforming Communication in Education; understanding the partnerships with our families and community is more critical than ever. Assessing our communication platforms and expecting them to do more to support consistent engagement between the school and home is pivotal in student success. As we bridge the gap for engaged and reciprocated dialog between these domains, we create a shared partnership that connects responsibility.
Please join us and our esteemed guest speakers for an informative discussion about the changes we are making in education around communication with our families and our community partners.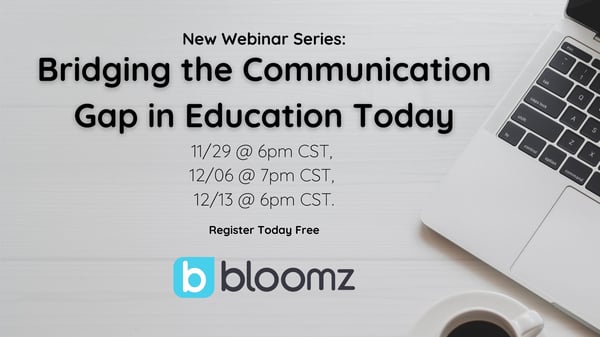 EARLY OPEN REGISTRATION to attend FREE EVENT! More Details coming soon about our AMAZING Speakers!
Monday Nov. 29th @4:00pst/7:00est 1 hour: What does Communication mean in Education Today?
Monday Dec. 6th @5:00pst/8:00est 1 hour: Assessing Communication Strategies to include our Family & Community Partners
Monday Dec.13th @4:00pst/7:00est 1 hour: The Benefits of Engaged Communication in Education with Parents & Guardians
Register in advance for this webinar series here: