by Horacio Ochoa, on Feb 3, 2017 8:05:37 PM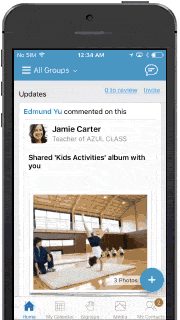 We are super excited to make this announcement: today, we have released a new iOS app that is available for download now at the App Store!
The new app is native to iOS, which means it gives you a much more fluid experience. The app is very responsive to touch and also loads information much faster than the previous hybrid version. You should go ahead and download it now, try it out, and you'll see how intuitive and easy it is to use.
Here are a few marquee features you should try out as soon as you download the app - but first, make sure you have your log-in credentials, you will be asked to log in again with this new update.
New navigation:

When logging in the first time to the new app, you'll notice a few minor changes in how your app looks...
The Bottom Navigation now consists of Home, My Calendar, Signups. Media and My Contacts. Every time you click on these icons, you will be taken to the top of the feed of the one you're clicking on.
Messages now appear at the top right of your home screen.
Access to your navigation tray (menu with all the classes and groups you belong to) is now found on the top right with the text "All Groups" - meaning, you are currently viewing the feed of all the groups you belong to.
You can also access your account profile, by swiping to the right and clicking on your profile picture at the top-right of the tray.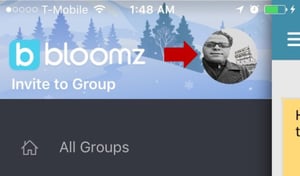 Swipe right & left: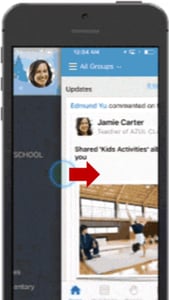 Swipe is a classic trait of modern apps and we are really making use of it in our new release...
When swiping from left to right, you'll bring up the navigation tray with all the classes and groups you belong to. If you're looking at a post or event details (clicking on a post to see it fully with comments, etc) and you swipe from left to right, you'll go back to the previous view or feed.
When swiping from right to left, you'll bring up your messaging history, anywhere you are in the app.
Swiping from top to bottom... see below.
Photo experience: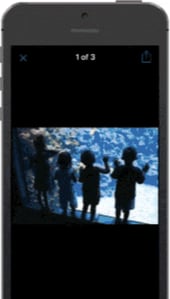 Understanding many of our users love looking at pictures on Bloomz, we've significantly upgraded our photo experience:
Clicking on a picture in a post or album, will quickly and smoothly bring it up to full screen.
When looking at a picture, swiping from top to bottom will close down the full-screen view and return to the previous view.
We've now enabled the 'pinch' gesture to zoom in and zoom out of pictures.
Slideshow view now allows you to swipe left or right to advance to the next picture or return to the previous.
Plus, all the great features you're used to on Bloomz.
We spared no effort to make sure the new Bloomz iOS app took us a few steps forward and no steps backwards - all the features you're used to in your Bloomz app are still available in this new version, plus all the above improvements.
We hope this is as exciting to play with as it was to build. Please download the new app, try it out and let us know what you think in the comments section below and send any questions or issues to support@bloomz.com - you can also check for some common known issues in our support page here.
Enjoy!