Dealing with Pandemic Anxiety in the Virtual Classroom
by Jessica King, on Mar 16, 2021 11:40:58 AM
Pandemic anxiety in the virtual classroom may seem like a difficult task to tackle or deal with, but in really it can be dealt with in the same way as we would if teaching in-person.
To understand how we can deal with our own anxiety as well as our students, it's important to understand how emotions work or become. It is this understanding or even just the knowledge of that actually helps us handle or deal with difficult feelings. The simple act of acknowledging what we're feeling even minimizes that feeling. This is also why it's so important to give students a greater vocabulary and understanding of emotions and feelings so that they themselves are able to label them.
Emotional knowledge is developed over time through our emotional experiences.
It is important as parents and educators to help children develop and increase their emotional knowledge as well as providing supporting emotional experiences.

For more, read: Understanding Motivation and Emotion by Johnmarshall Reeve
Emotional Knowledge & Awareness
There is a physiological aspect to our emotions. Blazer Fresh on the GoNoodle site does an excellent job describing the physiological aspects of emotions while also labeling each through their "mood walk". Giving students a chance to better understand the various emotions and their physiological counterparts will better enable them to identify how and what they are feeling. The "mood walk" is a great way to also mix it up in the virtual classroom and get your students up and moving in front of their computers.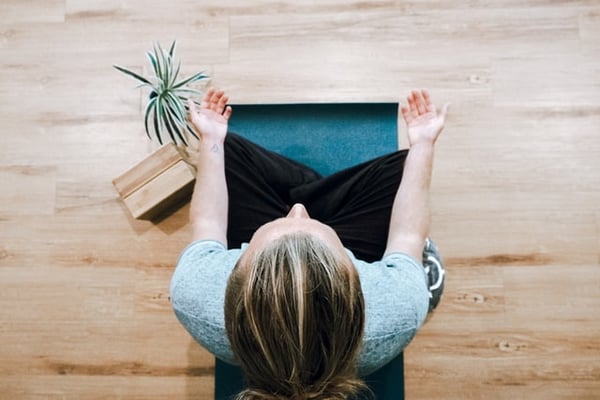 Mindfulness & Meditation
Mindfulness, being mindful of how we are feeling can be taught. Taking time in the day to help students develop better mindfulness further develops and supports the emotional awareness you want your students to have. This awareness and mindfulness will combat and help yourself and your students deal with pandemic anxiety.
Meditation is a way in which students and teachers can develop mindfulness and there are many articles and studies out there on the subject to help guide you through the process of medication with students. I personally, after reading and studying about emotions and meditation, became slightly obsessed with the subject.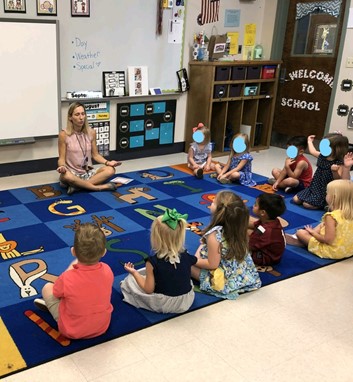 I began meditating with my students daily-and no instructional time was lost. I carried this on from my second grade class to my now k3. That's right THREE YEAR OLDS. Last year's group of 3s were able to meditate for 3 solid minutes, this year we've only mastered 2 minutes and that's ok. This meditation can be done in the virtual classroom. The calm app has some great guided meditation for kids and you can even make a video of yourself meditating to share with your class for them to do on their own.
There are many books on mindfulness for unraveling anxiety, below are some links to a few
Another great activity to help combat anxiety in the virtual classroom is to have students talk about what makes them worry, or anxious (depending on the age level some younger ones may better associate worry than anxious). Have them take pictures of themselves making expressions of various emotions and create a game for naming that emotion. The Bloomz app feed could be used for this so it's more interactive with comments and sharing or using the new activities option.
References:
American Psychological Association, Coalition for Psychology in Schools and Education. (2015). Top 20 principles from psychology for prek-12 teaching and learning. Retrieved from http://www.apa.org/ed/schools/cpse/top-twenty-principles.pdf.
Artman, Kathleen, Mejler, Claudia, Quesenberry, Amanda and Hemmeter, Mary Louise. (2020). Tutorial 6-Recognizing and supporting the social and emotional health of young children birth to age five. The Center for Effective Mental Health Consultation, an Innovation and Improvement Project. Retrieved from https://www.ecmhc.org/tutorials/social-emotional/mod1_1.html.
Reeve, John Marshall (2015). Understanding Motivation and Emotion. (6th ed.). Korea University: Riley.
Silverman, Amy. (2020, April/May). Play, child development and relationships: a preschool teacher in China shares her virtual teaching experience. NAEYC, Teaching Young Children. Retrieved from http://www.naeyc.org
Zhao, Yong. (2020, April 3). Beyond does it work: meaningful questions to ask about online education amid covid19 [Creative, Entrepreneurial, and Global: 21st Century Education]. Retrieved from http://zhaolearning.com/2020/04/03/beyond-does-it-work-meaningful-quetions-to-ask-about-online-amid-covid-19.
Photo by Katerina Jerabkova on Unsplash