Teacher of the Week - Katie Manella
by Laura Briggs, on Jul 7, 2017 2:13:24 AM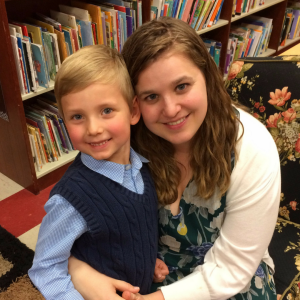 Why did you become a teacher?
I have always enjoyed working with kids. When I was in high school I was able to tutor younger children. I had one of those moments when the child I was working with finally UNDERSTOOD because of the time we had spent together. There is nothing that compares to seeing the excitement in a student when they have worked hard and finally understand something new. I also love that teaching allows me to use my creativity every day to help children discover new things.
What is your greatest teaching moment?
I have had many moments that have been amazing. Some of my favorites are when students I taught many years ago come back to visit me and share their favorite parts of being in my class. Last year I had a former student who was now in 8th grade bring me a beautiful picture of a jellyfish she had made for an art show. She said that she remembers learning about oceans in my class and wanted me to have it.
Do you have a funny story to share?
My first graders make me laugh on a daily basis. One of my favorite memories though was a little boy at the beginning of the year that was so confused when we were doing our alphabet review. He kept asking where the 2nd N was in the alphabet. I was so confused about what he was talking about. Turns out, he was hearing the end of the alphabet song "X Y and Z" as X Y N Z.
What is your advice to parents?
Two pieces of advice: read with your kids, and let them play. Many parents get so caught up in homework, and structured activities that they forget that kids need frequent imaginative play to build critical thinking skills.
What is your advice for teachers who are just starting out?
Don't put too much pressure on yourself to have it all together your first few years and be perfect. If you constantly compare yourself to veteran teachers you will burn out quickly. Make sure that you maintain a life outside your classroom and surround yourself with other teachers that have a positive outlook.
What is your favorite children's book?
My favorite children's book is The Paperbag Princess by Robert Munsch. I love that unlike most fairy tales, this book has a princess as the brave and witty main character of the story. She is the one to defeat the dragon and rescue the prince and in the end realizes that she makes her own "happily ever after". What a great message to girls and boys alike.
What do you like best about Bloomz?
My favorite feature of Bloomz is how easy it is to share pictures from our day with parents in a safe way. I love snapping quick pictures of all of the fun activities we do and I know parents enjoy getting the peek into what we do in the classroom.
Katie Mannella has taught at DaVinci Academy since 2008. She graduated with a B.A. in Elementary Education from the College of St. Benedict in 2008. She chose to teach at DaVinci Academy because she enjoys teaching the wide range of history and science from the Core Knowledge sequence while still teaching the first grade basics of reading and math.
Mrs. Mannella enjoys spending time with her family: husband Marco and children Mikey and Sophia. She also enjoys camping, gardening, and canning in the summer and scrap booking and reading a good book in the winter.
If you wish to participate in the Teacher of the Week program or would like to nominate someone to it, please fill out the form here, and share your comments in the section below.