Teacher of the Week - Laura Sullivan
by Laura Briggs, on May 12, 2017 10:15:42 AM
Energy, firsts, and fun are what make Laura Sullivan, our latest Teacher of the Week, inspired to teach every day. She strives to teach like a favorite teacher of her own who had a special relationship with each child that made them feel like they could do anything! Read on to find out more about this amazing teacher!
Why did you become a teacher?
I remember the very moment I decided to be a teacher. I was eight years old, in third grade, watching my teacher Mrs. Reagan. She was an amazing teacher; she was caring, she was funny, she was encouraging, she was patient, and I loved her class. She had a special relationship with all her students and made us feel like we could do anything. I knew I wanted to be just like Mrs. Reagan so I decided to be a teacher. Ever since then I have been striving to be a teacher like Mrs. Reagan, to make my students feel the way she made me feel. I think that if kids love school they are more receptive to learning and exploring new things. If I can help my little four and five year olds develop a love for learning that follows them through school, I can think of myself as successful.
What is your greatest teaching moment?
I can't think of one individual moment but rather a bunch of small moments that reaffirm my decision to be a teacher. When a student has been working so hard to reach a goal and you get to see them reach it, when a student who is quiet starts to open up, things likes that. I have not been teaching for very long so I can't wait for all those great moments to come!
What is your advice for teachers just starting out?
Lean on your team! I am surrounded by excellent veteran teachers and I am always going to them with questions and asking for help. Don't fool yourself into thinking you don't need help or feel too afraid to ask for it. Teaching is all about sharing resources and expertise so share your strengths and learn as much as you can to improve in those areas you aren't as strong in. Also try not to work too late, staying at school past dark will just drain you. Know when to say that your day is over and what's done is done and what's not done is just not done yet.
What is your advice to parents?
Read to your kids! Early literacy success can be directly linked to a child's exposure to books and reading. Just ten minutes a day, make it part of your routine to read to your kids. Public libraries are amazing and you can load up on books every week or two and have your child help pick them out. Talk about the stories, ask them questions, have them read to you (who says they have to know the words?!). It is an amazing way to spend quality time with your children at the end of the day and it will help them at school.
What is your favorite children's book?
I love The Last of the Really Great Whangdoodles by Julie Andrews. It's not a storybook with pictures but it's about three children who go into a world just with their imaginations and have an amazing adventure. It's a story with loveable characters and vivid descriptions. My favorite teacher, Mrs. Reagan read it to my class during story time over the course of a few weeks in elementary school and even without pictures we were mesmerized! She did different voices for the characters and we were hanging on her every word! I have read it more times than I can count!
What do you love about Bloomz?
Bloomz has really helped me with parent communication this year. It is a one stop shop. When I tell other teachers all of the things it can do, they don't believe me. The fact that I can post pictures, send messages, request items, and set up conferences all in one place has made life so much easier this year. I recommend Bloomz as much as I can!
About Laura
Laura Sullivan went to Franciscan University of Steubenville in Ohio and shortly after moved to Texas. She is in her second year of teaching Pre-K at Lawson Early Childhood School in McKinney Independent School District. She loves teaching early childhood because of all the energy, all of the firsts, and all of the fun. Her students are so joyful and so inquisitive that everyday is a new adventure. She is the proud aunt of a beautiful 15-month old little girl and she loves baking and spending time with her family.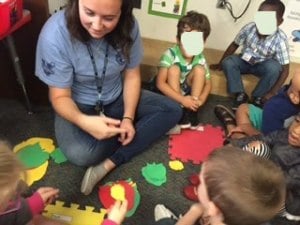 Would you like to share your story with other teachers and all our blog readers? Check out the details and sign up to be a Teacher of the Week here.