Teacher of the Week - Megan Wolf
by Laura Briggs, on May 9, 2017 9:40:34 AM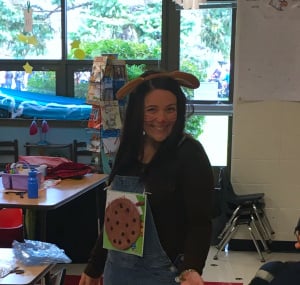 Continuing with our Teacher Appreciation Week series of featured teachers, today's amazing educator is Megan Wolf, an active teacher who loves playing the ukulele, dancing, kayaking, camping, creating art, and doing puzzles when she is not teacher. When she is teaching, she loves inspiring students to believe in themselves and thrive!
1. Why did you become a teacher?
I have always loved helping others and had a passion for learning. Even though learning came easy for me, I saw others who struggled with our traditional school systems and methods of learning. Whether it was friends, other students in classes I was in, family members or children I was babysitting, I loved using fun, creative, non-traditional methods to help them feel the same passion and love for learniIng that I had. The best moment for me is seeing the excitement in a child's eyes when they "get it" and realize learning can be full of discovery and fun and opens their minds to new worlds and ways of thinking. I strongly believe in teaching children social and life skills first alongside strategies of HOW to think and not WHAT to think so that they can be successful for a lifetime beyond my classroom doors.
2. What is your greatest teaching moment?
My greatest teaching moment(s) are when I can really connect with a student. Every student has a story and I love to learn about who they really are and work with them to find their passions and help them to explore them further. There is no greater joy then believing in that "difficult" student, connecting with them, seeing their growth and progress throughout the year, celebrating their successes with them and having them come back in future years with cards, handmade jewelry, trinkets and hugs and hearing "I love you" from them daily. It truly makes it all worth it.
3. Do you have a funny story to share?
I teach kindergarten; there are TOO MANY funny stories I could share! My kids make me laugh daily (both on purpose and on accident) and I wouldn't have it any other way.
4. What is your advice to parents?
Be involved! Whether that means actually volunteering in your child's classroom, sending in supplies, helping with book fairs or other school events OR just being involved with your child at home, helping them with schoolwork, asking about their day, reading with them every night and keeping up with what they're doing in class, YOU are the biggest influence on their success in school and in life! No matter how good their teachers are, they need YOU first and foremost!
5. What is your advice for teachers who are just starting out?
Love your students. The rest will come with time, but as long as they know you genuinely love them, support them, believe in them and want them to succeed, they will thrive in your care. You will "fail"…don't be afraid to make and admit your mistakes to your students! It shows them that it's okay to make mistakes as long as we learn and grow from them.
6. What is your favorite children's book?
I don't think I can pick just one! Where the Wild Things Are by Maurice Sendak, The Book With No Pictures by B.J. Novak, The Little Prince by Antoine de Saint-Exupéry, The Harry Potter series by JK Rowling and The Giver by Lois Lowry are a few of my all time favorites at different levels!
7. What do you like best about Bloomz?
I love the ease Bloomz gives me to communicate with parents through messaging, to keep them in the loop about what we are doing daily through posts and announcements, to share pictures and to create student portfolios to document projects and classwork from their year with me and throughout future years! It really helps to make the home-school connection so much more accessible and easier for me and my students' parents!
Megan attended the School of the Art Institute of Chicago for 2 years before transferring to and graduating from DePaul University with a degree in Elementary Education and endorsements in Art and French. She teaches kindergarten at Hawthorn Elementary North in Vernon Hills, IL. This is her second year teaching. Outside of school, she enjoys spending time with family and friends, hiking, playing ukulele, dancing, kayaking, camping, hanging out in my hammock, sending and receiving snail mail, going to concerts, creating art, doing puzzles and cuddling with her 7 year old rescued Manchester Terrier, Chili!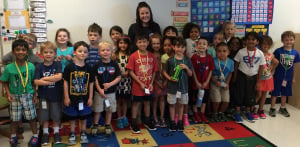 Don't forget to return every day during this Teacher Appreciation Week to check out all the amazing educators that are making a difference in their school communities.
Would you like to share your story with other teachers and all our blog readers? Check out the details and sign up to be a Teacher of the Week here.