Teacher of the Week - Tia Collins
by Laura Briggs, on May 11, 2017 6:46:26 PM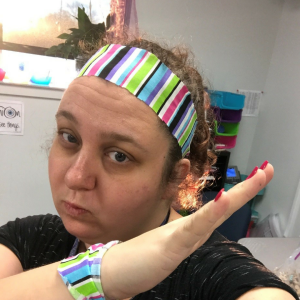 As our celebrating of inspiring teachers continues for Teacher Appreciation Week, we congratulate Tia Collins! Read on to find out more about her love of teaching and children - Keeping up with parent communication is very important and is central to helping her students learn.
The Joy of Teaching
I love seeing the looks on a child's face when they learn something new and it "clicks"! I noticed that not many of the students in the special needs classrooms were happy like other students at my high school. I dated a boy whose brother had special needs and he always spoke poorly about school. The boys' mom noticed that I had a genuine heart for her disabled son and suggested I look into teaching. I knew it sounded perfect and I decided to not only be a teacher, but to go to school to teach those kids who don't get to experience the "clicks" as often as other students.
One of my greatest teaching moments was in my classroom for the cognitively impaired. I was talking with a student about how well he was doing and that I wanted him to also do this well when working with other teachers. He said that he liked me the most and wanted to save his best for me. That was when I realized the importance of relationships with students and how that can motivate students to do better!
I have many funny stories to share, but the most recent came the day before April Fool's Day. April 1st is nothing short of a National Holiday for me. It is one of my favorite days to laugh with my students. Since it was on a Saturday this year, I had to plan something for Friday. I told my students they had to be present, they were receiving the latest technology, and they could take is home over spring break and keep it forever. All week, the buzz was that I was giving each student an iPad. On that Friday, I had 100% attendance, which almost never happens the day before a break. I reminded students of my clues and pulled out a box of brand new Eye Pads (gauze pads for your eye). My students cheered for a good 10-15 seconds while I started throwing these around the room until they realized what they were. The room was dead silent and you could just hear their little brains trying to understand what just happened. In the end, we all got a good laugh and they had a prank for their parents the next day.
Helping Parents & Teachers
My best advice to give parents is to trust your child's teacher. Teacher's come to school everyday, work in the evenings and weekends, and sacrifice family time/finances to improve the lives of your child. There may be a bad apple here and there, but the vast majority of teachers have dedicated their life to teaching and only have 9 months to make the biggest impact they can on a group of students. Trust that your child's teacher thinks about your child at all hours of the day and is constantly questioning his/her decisions regarding your child's education. Be involved, but respect and trust teachers as the professionals they truly are.
My advice for teachers just starting out is to re-read your books from your college days. With no context to apply your learning (due to not yet being in a classroom), many of the ideas and concepts learned in college are essentially abstract. Now that you have a classroom and variety of personalities in your classroom, revisit those books, notes, projects, and unit plans. See how you can tweak what you originally learned to fit your current needs. Identify the differences in what you envisioned your first year to look like then research the why behind it. Read and re-read all the time. Sign up for email alerts when educational researchers publish something new or your favorite blogger has a new blog post. Read and question what you read, then don't be afraid to try what you have read about in your classroom.
My favorite children's book at the moment is Wonder. So many kids of self-esteem issues like I did and it can be a very difficult time of life. I have witnessed kids as young as second grade identifying with the characters in Wonder and applying the events to their own lives. Everyone knows a bully or has been bullied for something out of their control, such as how he/she looks. There is nothing we can really do to change our looks and we won't find true happiness if we try to please others. Books like Wonder encourage kids to love themselves the way they are and to stand strong in the face of a bully.
Using Bloomz
I have been using Bloomz for almost a year. My favorite part about the app is the messaging feature. I love that I can message parents a private update about their child and it goes instantly to their phone and email. Whether I use my phone app or use the website on my laptop, students can hear when a parent has messaged me back and get very excited to know who it was. Conferences were made so much easier this year by having parents sign up on Bloomz. When someone needed to cancel last minute, they were able to view the open slots from their phone and quickly sign up for a different one. Finally, I love the community I feel with my parents that has come from the Bloomz app. I can easily post a picture or classroom announcement that everyone can see and many parents choose to "like" or reply with a positive comment.
About Tia
Tia Collins earned her B.S. in Education with certifications in Cognitive Impairments and Elementary Education from Wayne State University in Detroit, MI. She earned her M.A. in Literacy Education with a certification in Reading Specialist from Grand Valley State University in Grand Rapids, MI. She currently teaches second grade at Grand River Academy in Livonia, MI. She has been teaching for 5 years in both special education and general education classrooms. Tia Collins has 3 children, 2 rescue dogs, and 1 giant albino rabbit. She enjoys gardening and playing tennis.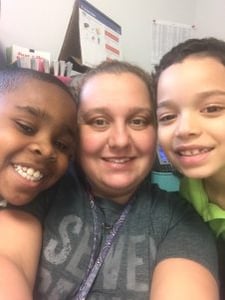 Would you like to share your story with other teachers and all our blog readers? Check out the details and sign up to be a Teacher of the Week here.