You Have One New Notification
by Nikhil Misra, on May 26, 2017 5:49:39 PM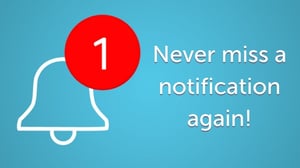 We've got more news to share! Bloomz now has a Notification Center where you will find all your pending items in Bloomz in one place, whether it's student submissions, new invites or access requests, the new notification center will simplify and sort your notifications so you can find them fast!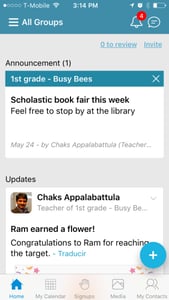 The Notification Center has 4 tabs to organize your notifications:
1. Within the 'Submissions' tab, student submissions will be readily available for review, so you can choose to publish student works to their timeline or remove any posts flagged as inappropriate.
Publish or delete the student work submissions
Moderate the posts and comments of your groups
2. In 'Invitations' you will find invites along with related information about events, such as changes in event time. From the Notification Center itself you can choose to confirm or ignore invitations, or select 'Maybe' if you're unsure.
View and act on the invitations you received
RSVP event invites (Events, Parent Teacher Conferences, etc.)
Accept/Decline the group invites and friend requests
3. In 'Needs Access' you will see a collection of all parent requests for access to your group, which you can approve or decline easily from the notification center as well.
View and act on the group access requests
Grant access to members joining your groups (class, community, etc.)
4. The 'All' tab will aggregate all the above for quick access.
This feature is now available in all web, iOS and Android.
We hope you find this new feature useful. Please let us know your feedback in the comments below.