Bloomz Earns iKeepSafe COPPA Safe Harbor, FERPA, and California Student Data Privacy Certifications
by Horacio Ochoa, on Aug 23, 2021 3:53:25 PM
August 23, 2021— Bloomz is pleased to announce that it has earned the iKeepSafe COPPA Safe Harbor, FERPA, and California Student Data Privacy Certifications. These certifications signify that Bloomz has been proactively and independently assessed by iKeepSafe, an experienced privacy protection organization.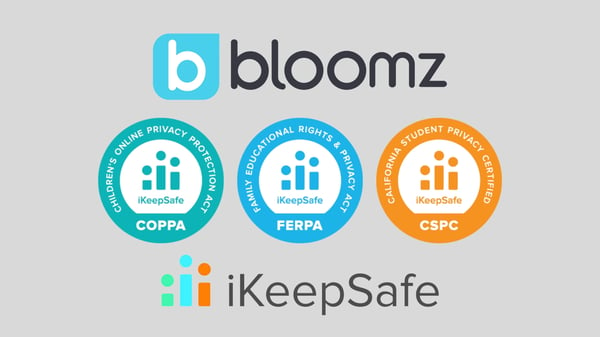 iKeepSafe Privacy Certifications simplify privacy compliance for education technology vendors and make it easy for schools to identify websites, apps, data management platforms, and other technology products that follow various privacy laws governing student data. Products that carry the iKeepSafe badge provide educators and parents with the assurance that the product meets iKeepSafe's standards in the areas of privacy, safety, and security.
Bloomz is a complete classroom, school and district communication platform. It increases parent engagement, while reducing parent confusion and staff inefficiencies caused by communication app proliferation. Bloomz does this by consolidating all school and district communication, calendar coordination and classroom management, in one powerful, yet easy-to-use platform. Included in the Bloomz platform are: Unified Communications, Calendars & Signups, Automatic Translation, PBIS/MTSS Behavior Management, Digital Activities & Assignments, Dashboards & Reports, Administrator Oversight and Seamless Integration with SIS & LMS.
"We are really excited to get the iKeepSafe COPPA, FERPA and CSPC certifications," said Chaks Appalabattula, CEO of Bloomz. "We look forward to continuing our path of innovation to streamline and simplify communication for educators, while ensuring complete compliance and reliability."
"We congratulate Bloomz on earning the iKeepSafe COPPA Safe Harbor, FERPA, and California Student Privacy Certifications!" said iKeepSafe President Amber Lindsay. "Schools can feel confident that Bloomz meets iKeepSafe's high standards of data privacy protection."
###
ABOUT BLOOMZ
Bloomz is the communications platform that connects districts, schools and classrooms with parents and students in a secure, social, and private environment. In Bloomz, parents feel more connected than they ever have to their children's education; meanwhile, educators and administrators save on time and resources, at the same time they increase parent engagement and staff efficiency, because they have everything they need in one easy-to-use tool. Learn more at Bloomz.com.
ABOUT IKEEPSAFE
The Internet Keep Safe Coalition (iKeepSafe) certifies digital products as compliant with state and federal requirements for handling protected personal information. We help organizations achieve and maintain compliance through product assessments, monthly monitoring, annual training, and assistance with remediation. To view iKeepSafe's list of assessed products, visit https://ikeepsafe.org/products/.