Bloomz Introduces Robocalling, Allowing Schools to Deliver Audio Messages to Parents
by Horacio Ochoa, on Jun 11, 2020 6:00:00 AM
The app continues to deliver on its promise to provide a single, comprehensive solution for school-home communication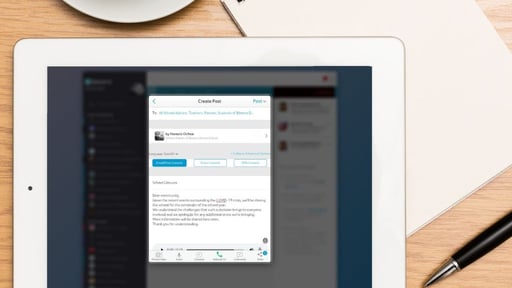 (Seattle, Wash.) June 11, 2020 — Today, the award-winning family communication and engagement app Bloomz announced the addition of Robocalling, a new feature allowing administrators to share audio recordings and text-to-speech messages with parents and students at the click of a button.
The new capability, designed to be intuitive to those already familiar with the platform, allows premium users to quickly and easily record voice messages and queue them for immediate or scheduled delivery to fully customizable recipient groups.
"Many district leaders have asked Bloomz to develop a robocalling feature, and today we are thrilled to be answering their requests with the delivery of this powerful new capability," said Chaks Appalabuttula, the CEO of Bloomz. "As the rise in remote learning continues to pose unique challenges for school-home engagement, we are providing educators and families intuitive mobile tools to stay connected."
Bloomz's new robocalling feature takes the text entered by administrators and automatically converts it to voice recordings using text-to-speech technology, to save them time in their communication. Included with Robocalling, Bloomz gives administrators the ability to send customized voice recordings in different languages, all within the same creation flow, so they can ensure non-English speaking parents receive the recordings based on their preferred language. Any text messages are automatically translated to the recipient's preferred language thanks to Bloomz's already available translation feature.
Existing customers under an All-Inclusive Premium subscription can now activate robocalling at no additional cost by contacting Bloomz's support team. This includes more than 700 schools who took advantage of Bloomz's recent COVID-19 Free Premium Pilot, which remains active through June 30, 2020.
With schools and parents needing to remain connected and engaged during school closures, Bloomz has seen a nearly 300% increase in new daily users since the COVID-19 crisis began. With more than 7 million messages sent last month alone and a 200% spike in video uploads compared to the start of the year, Bloomz has been working hard to support remote learning while improving overall performance, offering faster speeds and greater stability than ever before.
In support of districts during this uncertain time, Bloomz is continually seeking insight from educators and administrators to rework their platform and provide a truly comprehensive, all-in-one solution for school-home communication. Along with robocalling, recent improvements including an updated user interface, new post templates, and more sharing options have helped establish a brand new Bloomz, better than ever.
To learn more about robocalling and other new features detailing Bloomz's ambitious renovation, read their new features blog.
About Bloomz
Bloomz, winner of EdTech Digest's Cool Tool award for the second year in a row, is the free mobile and web app that connects educators with parents and students in a secure, social, and private environment. In Bloomz, parents feel more connected than they ever have to their children's world, and teachers and administrators save more time than ever before, because they have everything they need in one easy-to-use tool. Learn more at Bloomz.com.
Press Contact:
Eli Jochim
PR with Panache!
eli@prwithpanache.com