Bloomz Now Connects More Than One Million Parents, Teachers, and Administrators
by Horacio Ochoa, on Aug 1, 2017 12:12:58 PM
More and more schools are turning to the free communication app to support student success by engaging today's smartphone-wielding parents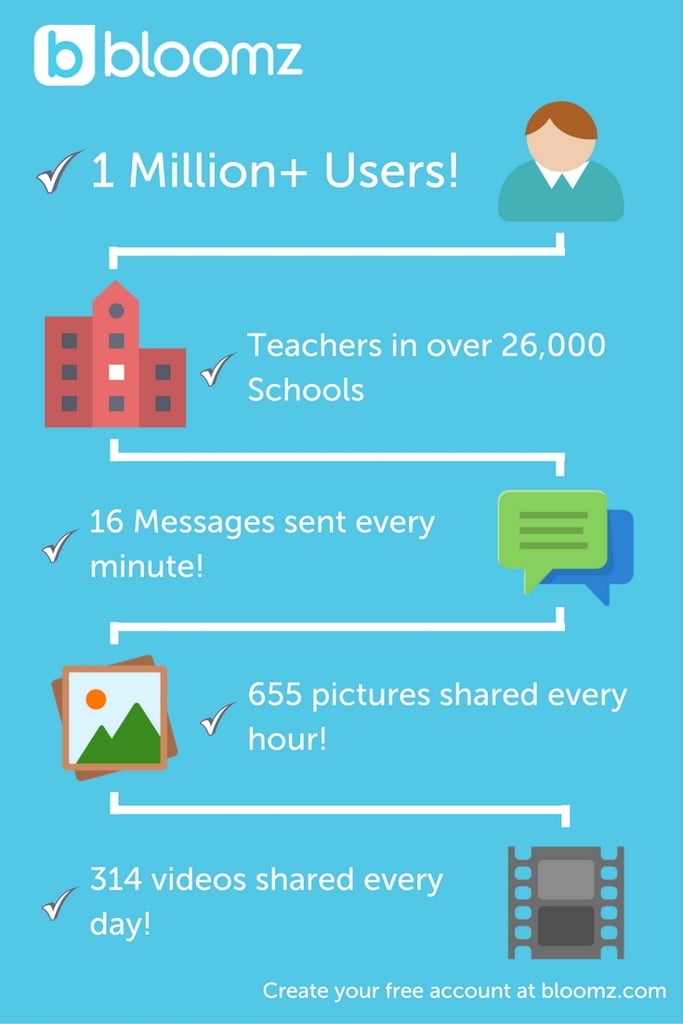 (Seattle, WA) August 01, 2017 — Bloomz is thrilled to announce that its fast-growing parent-teacher communication app has officially passed the one million user mark. This number includes teachers, administrators, and parents from more than 79 different countries, though 94% of users reside in the United States.
During the 2016–2017 school year, the app saw a remarkable amount of use, including:
8,194,464 messages sent (16 per minute)
5,738,374 photos shared (655 per hour)
114,578 videos Shared (314 per day)
The company has seen rapid growth since launching in March 2015, now reaching teachers in over twenty-six thousand schools. Last year, the company raised over two million dollars in funding and is poised to continue its accelerated growth with the new school year approaching.
"We are honored to serve the needs of both parents and teachers with our app," said Chaks Appalabattula, CEO and founder. "I know first-hand how vital the school community is for parents to lean on in difficult times. With Bloomz, parents are never more than a click away from support, whether that means support during an illness, help with their children's homework, or a means of communication for ELL students and their families" Said Appalabattula, who first got the idea to create the app when he and his wife simultaneously fell ill and were unable to take their children to school.
According to research, one of the best predictors of student achievement is parental involvement in a child's education. Bloomz offers a direct line of communication between parents and teachers, enabling both parties to easily work together to help students succeed.
The Bloomz app includes convenient tools such as real-time updates, photo and video sharing, event and volunteer coordination, behavior communication, student portfolios, parent-teacher conference signups, and much more. Bloomz is the only comprehensive app positioned to connect not only parents and educators, but also PTAs, church groups, Girl/Boy Scouts, and daycares. It even includes translation capabilities for non-English speaking parents in over 80 languages.
About Bloomz
Bloomz is the free mobile and web app that connects educators with parents in a secure, social, private environment. In Bloomz, parents feel more connected than they ever have to their children's world, and teachers have more time than ever before, because they have everything they need in one simple-to-use tool. Learn more at Bloomz.com.
Press Contact:
Sue Hanson
PR with Panache!
sue@prwithpanache.com