Bloomz Offers Class Messenger Users a One-Click Transition to Keep Communication Going After Shutdown
by Horacio Ochoa, on Dec 14, 2016 12:41:00 AM
Educators can easily import their class and parent information, and automatically invite their classroom parents to the new app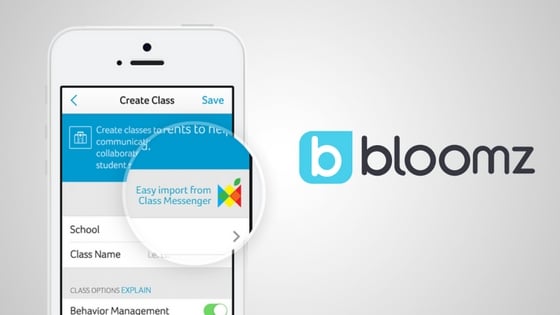 (Redmond, WA) December 14, 2016 — Recently, the classroom communication app Class Messenger announced on its blog that it would permanently shut down its service on December 23, leaving thousands of users without a communication tool for their classroom right before the holiday break.
In order to help these users transition to the second half of the school year, the all-in-one parent communication app Bloomz has stepped up to offer an easy way for teachers and parents who had been using Class Messenger to keep in touch without missing a step. Bloomz CEO Chaks Appalabattula said, "Lots of Class Messenger users were naturally finding their way to Bloomz to transition their classes, so we wanted to offer them a path to keep their communication going with an easy migration."
"We are enabling an easy and secure pass-through of information, so their users can sign up for an account now and test the app before they import their class and invite parents," said Appalabattula.
Bloomz supports SMS/Text signups and notifications, as well as translation to more than 80 languages, making it easier for parents to receive communications. "With Bloomz, these teachers will not only keep a channel of communication with parents, but will also gain in other community and coordination capabilities, including calendaring, parent-teacher conference and volunteer signups, behavior management and student-led portfolios," Appalabattula added.
Jenn S. a teacher from an elementary school in the Pittsburg area, used to be a Class Messenger user, along with other teachers in her school. After hearing about their shutdown, she had to find an alternative for her school quickly, so she downloaded and tried 10 different apps. "We found that Bloomz met our current expectation, but even better. It is more organized and user-friendly," she wrote in a blog post. "As inconvenient as it is to choose a new app, this was a blessing in disguise because it gave me the opportunity to see what else was out there, and I found something better that would fit my needs."
Bloomz, which offers its service for free, wants incoming teachers and parents to know that the company is here for the long run. "Bloomz has huge momentum behind it," said Appalabattula. "We have gained recognition in the industry, winning Product of the Year from EdTech Digest and, more recently, being shortlisted in the Reimagine Education Awards 2016. This is an amazing time for Bloomz, and our users have the peace of mind that we are here to stay."About Bloomz
Bloomz is the free mobile and web app that connects educators with parents in a secure, social, private environment. In Bloomz, parents feel more connected than they ever have to their children's world, and teachers have more time than ever before, because they have everything they need in one simple-to-use tool.
* This integration has not been approved or endorsed by Class Messenger. Bloomz is taking these steps as a service to the thousands of teachers who may be left without a parent communication tool before the new year.