Bloomz Secures $2.3 Million in Capital Investment
by Horacio Ochoa, on May 24, 2016 1:00:40 AM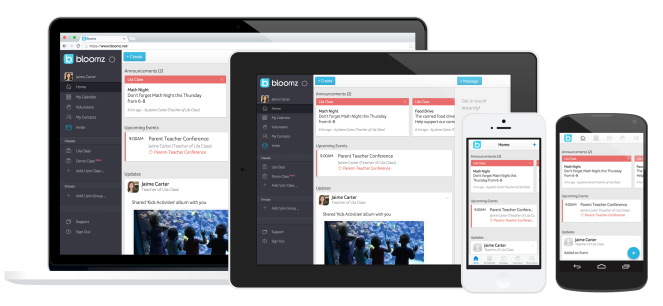 The new funding will go towards further innovation on its app and to expand its user base, which already includes teachers and parents in more than 10,000 schools
(Seattle, WA) May 23, 2016 — The fast growing PreK-8 community and messaging app Bloomz announced today that it has secured $2.3 million in capital investment. Investors in this round include 8VC, ff Venture Capital, Founder's Co-op, CorrelationVC, Wisemont Capital, Acequia Capital and individuals such as Chris Liddell and Charlie Songhurst.
The new capital will go towards further innovation on Bloomz and to expand the user base of the award-winning app, which is already being used by teachers and parents in more than 10,000 schools.
"Bloomz is uniquely positioned to engage today's young parents in the same way those parents are used to engaging with their personal and professional worlds on Facebook or LinkedIn. It will become the central point for everything around their children for parents," said Jake Medwell of 8VC (founded by Joe Lonsdale). "It is a must-have app for every community that engages parents with kids in the pre-K–8 grades."
John Frankel, partner at ff Venture Capital, said that his company was impressed by the strong engagement metrics and continued growth of Bloomz, adding, "Within its first year of launch, Bloomz captured the imagination of both teachers and parents. We look forward to fueling further growth to help Bloomz become the dominant force in parent engagement."
Rudy Gadre of Founder's Co-op, who was also the first General Counsel at Facebook, jumped on the Bloomz opportunity very early on and the group made a follow-on investment in this round. "Bloomz is addressing a need in a space that is ripe for disruption, thanks to the new generation of mobile and social savvy parents entering the school system."
The app's rich set of tools include real-time updates, photo-sharing, event and volunteer coordination, parent-teacher conference signups, among other community-building tools to engage today's mobile and social parents. Bloomz is the only comprehensive app positioned to connect not only parents and educators, but also PTAs, church groups, Girl/Boy Scouts, and daycares. Bloomz recently won EdTech Digest 2016 Best New Product award and is featured by Apple's AppStore as "Perfect for Every Classroom".
"We are thrilled to have the backing of these renowned investors to make the Bloomz vision of connecting parents to teachers, and to the world around their children, a reality," said Chaks Appalabattula, the CEO of Bloomz. "With rave reviews, strong word-of-mouth and more than 95% of the teachers surveyed 'loving' the app, it is clear we built an app that is intuitive, easy-to-use, and powerful in connecting pre-K–8 communities. Our team is looking forward to seeing Bloomz in the hands of every teacher and parent."
About Bloomz
Bloomz is the free mobile and web app that connects educators with parents in a secure, social, private environment. In Bloomz, parents feel more connected than they ever have to their children's world, and teachers have more time than ever before, because they have everything they need in one simple-to-use tool. Learn more at Bloomz.net.