Bloomz Teacher of the Week- Annie Gleason
by Bloomz, on May 29, 2015 12:24:25 AM
Annie Gleason is one of those people that lights up a room and is guaranteed to make you happier in 3.5 seconds. She is one of those people you just "want to be around." If I feel that way, I can only imagine how her class of first graders feel about her. She has a natural talent for education, and will be an amazing addition to any school for many years to come.
This week I had a chance to chat with her about her journey to teaching and how she has finally found the job she was "meant for."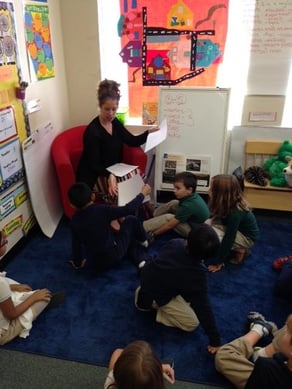 Why did you become a teacher?
I felt really uninspired in my first job out of college. I wanted a job that was inspiring and would be able to have an impact on children.
What is your greatest teaching moment?
We were learning about habitats of the world. During the rainforest habitat curriculum we took the kids to the zoo. The Woodland Park Zoo in Seattle has a rainforest habitat that is amazing. While we were walking through, one of my students said to me…. "Wow! The rainforest is amazing! It is totally coming together… What you taught us and what I see here…. I totally get it now. It's awesome!" It was great to be able to provide that.
Do you have a funny story to share?
During the same habitat unit, the students made floats that they were presenting to the kindergarteners. One of them asked- "How did you learn about the rainforest?" The student that was presenting said she had learned everything from her teacher Miss Gleason. She said Miss Gleason had been to a couple and had shared her pictures. "Basically Miss Gleason taught us everything she knows about rainforests. In fact- let's hear it from Miss Gleason. Let's give her a round of applause!" and the whole kindergarten class started clapping for me. It was hilarious!
What is your best advice to parents?
Extend learning into the home. Read with your kids every day. Sit down and take the time to do homework so that you know what is going on in school. That way the students see that their parents are invested in their learning. Be an example- show them how much you value education.
And how about your advice to other new teachers?
Be patient. Because you are learning as well, and it is ongoing. You won't be perfect… it will take some time. Take suggestions from experienced teachers, but also don't be afraid to offer your expertise as well. And get a lot of sleep! As much as you can!
Your favorite children's book?
Case of the Tattle Tongue. This is an important book for first grades. It helps them understand how to stand up for themselves and make the right decision. To not listen to their peers. Be yourself. This has been one of my biggest challenges this year- teaching them how to be respectful and treat others how you want to be treated. The Golden Rule is the motto of my classroom.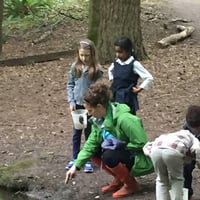 Annie Gleason grew up in Oregon. She has three older sisters and an older brother. In 2002, she graduated from the University of Puget Sound with a BA. She also has her Masters in Education from Northwest University. She taught for two years as a substitute in the award winning Lake Washington School District, and is now finishing her first year in her own room as a first grade teacher at Evergreen Academy in Bothell. She loves summer, and can't wait to be out in the sun!