Bloomz Teacher Of The Week- Audrey Jackson
by Bloomz, on Sep 18, 2015 12:41:47 PM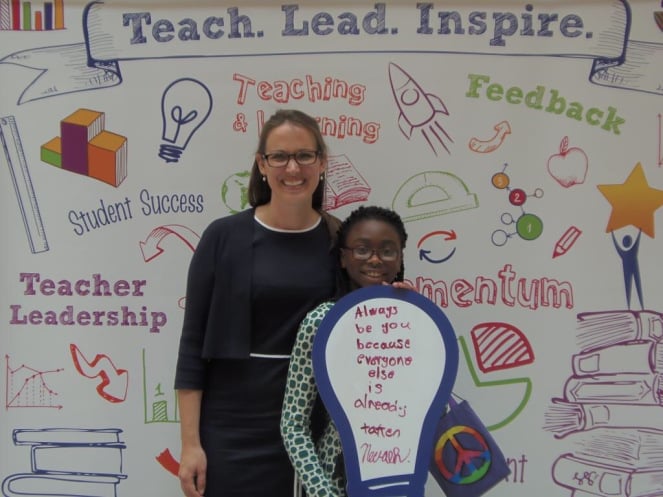 1. Why did you become a teacher?
I became a teacher because it's the best way I know how to have a positive impact in the world – plus 5th graders are pretty awesome! I came to teaching with a passion for education as a form of social justice, and I love how much I learn from and with my students and their families every year.
2. What is your greatest teaching moment?
Although there are many, many moments that make teaching great (it's why I'm still teaching!), a speech given by one of my students at the State House this past spring was one of the most humbling and rewarding experiences thus far. She spoke about the impact I've had on her life with grace and strength, and I couldn't have been more proud.
3. Do you have a funny story to share?
This summer one of my students called me to work through some tricky problems assigned by her soon-to-be middle school math teacher. One problem asked her to figure out how many cows and chickens were on a farm based on a given number of feet and heads. She came up with a plan and then a solution that was so close, but hadn't accounted for two feet. She thought for a moment and then exclaimed, "Ms. Jackson, I've got it! There must be a headless chicken running around on that farm!"
4. What is your advice to parents?
Talk and play with your child(ren). Help them develop a sense of empathy and connection to the community. Advocate for them, but also teach them how to advocate for themselves and others.
5. What is your advice for teachers who are just starting out?
Let the kids see that you love and believe in them, and even if you make mistakes you will make a difference. Make sure to take time for self care, too!
6. What is your favorite children's book?
Honey, I Love by Eloise Greenfield, illustrated by Jan Spivey Gilchrist.
7. What do you like best about Bloomz?
I'm just starting to use Bloomz, but I selected it to use this year because love that it integrates so many things (calendar, updates, photos, volunteer requests, etc.) on one platform. I think it will be much easier to share and track information, and I'm hopeful it will also facilitate easier communication between families.
Audrey has taught 5th grade inclusion in Boston Public Schools for 8 years and is currently teaching at the J.P. Manning School in Jamaica Plain, MA. She earned her B.A. from Williams College, an Ed.M. in Elementary and Special Education from Boston Teacher Residency, and an Ed.M. in Human Development and Psychology from Harvard Graduate School of Education. She was recently named the Massachusetts 2016 Teacher of the Year. She lives in Boston with her husband Keith and their two cats, Winston and Charles.