Bloomz Teacher of the Week- Haley Price
by Bloomz, on Sep 4, 2015 12:04:12 PM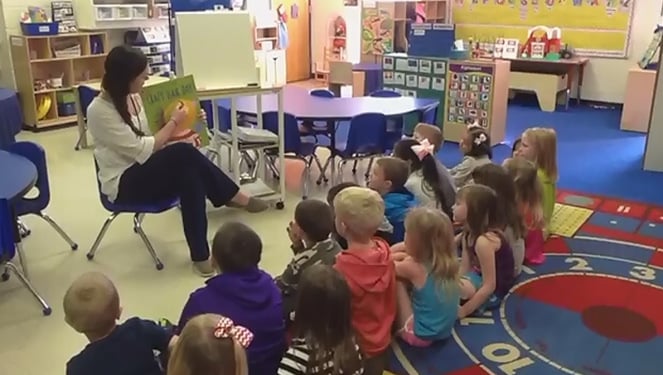 1. Why did you become a teacher?
I became a teacher for many different reasons. I have a desire to encourage people (my students) to become all that they are meant to be. I have a desire to see people reach their full potential. I became an educator because I want to make a difference. I teach my students to be difference makers. I love learning and it is my goal to inspire my students to become lifelong learners who take advantage of every single moment of every single day. My hope is that when my students leave my classroom that they leave knowing that they can do absolutely anything that they set out to achieve, that they are loved and supported by me and those around them, and that they have the power to change the world!
2. What is your greatest teaching moment?
My greatest teaching moment was in 4K. I had a student who came to me that had some challenges and obstacles that we were going to have to partner together to get through. This child came in the first day and would not speak or make eye contact with anyone in the room. She was very reluctant to join all of her classmates at the carpet and hung out in the back of the room for a while before deciding to join. This went on most of the first three weeks of school. After coming in one morning to school, her aunt was trying to drop her off in the office. This student had an absolute melt down. She became unresponsive to all who tried to get her off the floor and who tried to help her. That is when they called me over the intercom to come in to try and help. When I arrived in the office, I knelt down and sat there on the floor with her. She looked up at me and I began to tell her all about the day that we had planned! I asked her if she was ready to go to class with me and she nodded "yes." She and I stood up together and held hands as we walked to class together. It was in that moment that I realized that I had gained her trust and that we had already become conquerors. This particular child went on to soar and make incredible gains. She left 4K at the top of her class and is continuing to make great advances!
3. Do you have a funny story to share?
My 4k students used to call me Ms. Pricey
4. What is your advice to parents?
Always love, support, and encourage your children. What you say to them and how you say it matters. Be involved in their learning. What is important to you will become what is important to them. Spend time with your children and make sure that they know that they matter to you! The time you spend with them and the time you don't spend with them will be time that you can never get back. Take advantage of it!!
5. What is your advice for teachers who are just starting out?
Breathe. Relax. Survive. You can do this. You have made it this far which is an indicator to me that you were made for this! You will be great! Always encourage your students and never aim to humiliate them. If something doesn't go as planned (which it won't about 85% of the time) don't sweat it! Monitor and adjust! (Teacher's Mantra)
6. What is your favorite children's book?
Because of Winn Dixie and any Nancy Drew book!
7. What do you like best about Bloomz?
What I love most about Bloomz is how user friendly it is. You have the ability to do so much through Bloomz. Bloomz has really taken parent/teacher communication to the next level. It is my classroom website, my blog, and also where I can push out reminders and constantly keep my parents informed and updated. Bloomz is the most efficient teacher communication tool out there!
Bio:
This is my second year teaching at Carlisle Foster's Grove in Spartanburg, SC. I went to Polk County High School in Polk County, NC. and North Greenville University in Greenville, SC. I love to eat. Food is my passion. I also love to participate in sports. I play the guitar and the piano! I am getting married in April! Ihave the greatest mom and dad in the whole world and I also have three younger brothers!