Bloomz Teacher Of The Week- Robyn Plucker
by Bloomz, on Aug 21, 2015 8:46:07 AM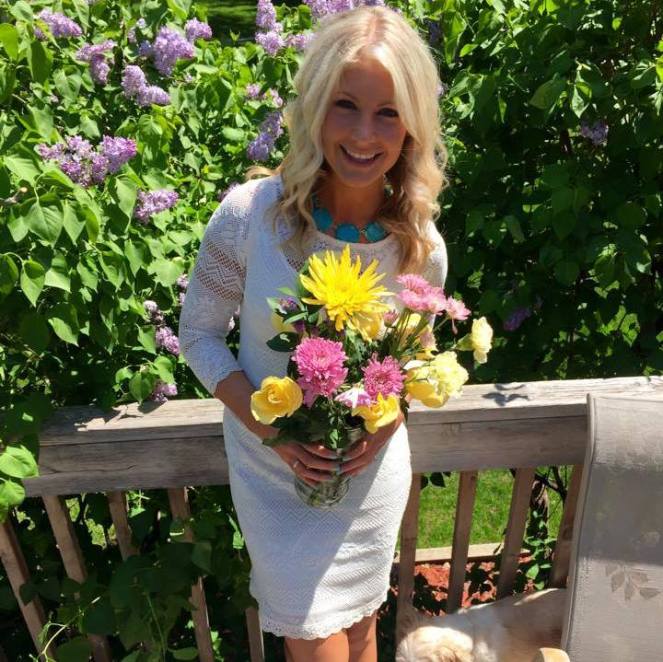 Why did you become a teacher?
I never planned on becoming a teacher… I really had no idea what I wanted to do when I "grew up". I had plans of becoming a world-renowned artist, personal trainer, or veterinarian but I landed in graphic design. I was working my way through college, wondering why I was spending money on a degree I never saw myself using so I took a semester to "reflect".
I was waitressing at a local Applebees, primarily lunch shifts. I even had a lunchtime regular whose name was Jill. I looked forward to seeing Jill almost every weekday. Her smile lit up the restaurant and she greeted me the same way every afternoon, "THERE'SSS my GIRLL!" Jill always seemed more interested in my life than I was and while she never bugged me about going back to school, I knew the topic wouldn't go untouched. One day she asked me if I had ever considered teaching. Jill was the head of the Early Childhood Education
program at a local community college and she told me she knew a future teacher when she saw one, which was apparently me. I told her school is and always will be the bane of my existence. I didn't learn as most did - through worksheets and flashcards. I learned with my hands, my eyes, and through experiences that weren't found in any classroom I had. She told me that's why I would be such a wonderful teacher, because I see things differently. Trusting in Jill, I changed my major and transferred to Jill's alma mater, UW-Stout. Through my teacher training I found a passion for learning I never knew existed within me. I graduated from Stout with a B.A. in Early Childhood Education and a cross categorical certification in Special Education.
Now, here I am. On my third year of teaching Kindergarten. I wake up each morning truly excited to go to work and I go to bed each night feeling so fulfilled. My kids (yes, I refer to my students as my kids) challenge me to try new things and they push me to be the best teacher I can possibly be. If I can provide experiences that ignite a passion for learning during the early years, a passion I never knew until I found my calling, my mission is accomplished.
What is your greatest teaching moment?
I would say my greatest teaching moment was during my first year of teaching when I thought I knew everything. It was day 2 of a math lesson on counting by two's. I had explained the process of counting by two's exactly how the curriculum instructed. I added a couple books I found in the school library on counting by twos to "enrich the lesson". I passed out the required worksheet and even found my own online to better "differentiate the instruction". I used the counters meant to provide a "hands on" experience. I even paired students in the front of the room to try and illustrate the concept, but one student in particular was just not grasping it. I thought I had presented the information in a variety of ways – how could she not get this? I am a horrible teacher! During my lunch I grabbed a couple pairs of shoes from my car, a few pairs from other teachers (all teachers keep a back-up wardrobe at school), and added the shoes off my feet to the collection as well. When my kids came back to class and saw all the shoes, I knew I had their attention. I presented the concept of "counting by twos" by putting the shoes in pairs. Suddenly, it clicked for her. She got it. And I realized that thinking outside of the box is going to be my lifeline as a kindergarten teacher.
Do you have a funny story to share?
My fiancé, Andrew (now husband) came to my classroom to read a story as one of our "Mystery Readers". At the end of the story one of my girls scurried over to me and declared, "Ms. Plucker, your fon-say is SO handsome! Like, he is GORGEOUS!" I think she surprised herself with the unintentional volume of her statement and she immediately recoiled in complete embarrassment. It was probably the most difficult time I had in refraining from laughing while I comforted her.
What is your advice to parents?
Let your kids PLAY! Play is so vital and so much of it has been squeezed out of the school day and home, replaced with demanding curriculum and the demands of life – even in kindergarten! So between scheduling dance practice, sports games, and appointments, PLEASE limit the TV, take away the Ipad and let them be kids! They may say, "We're bored, there's nothing to do…" Toss them some toilet paper rolls and in ten minutes they'll figure out what "imaginative play" is.
What is your advice to teachers just starting out?
My advice to new teachers, or any teacher for that matter, would be to strive for a mindset of growth. You can always improve on something or learn something new from someone – be open to that.
What is your favorite children's book?
Chrysanthemum, Written and illustrated by Kevin Henkes. A story about a little mouse girl named, Chrysanthemum. She loved her name until the kids at school made fun of her. It took one special teacher to remind her that her name is what makes her special and unique. My maiden name was Plucker, which I attribute much of my sense of humor to. When my teacher read the story Chrysanthemum to our class in 3rd grade, I completely resonated with the main character and fell in love with all things Kevin Henkes.
What do you like the best about Bloomz?
Bloomz reminds me of a safe, user-friendly, simplified version of a classroom facebook. It ties all aspects of parent-communication into one easy app/website. Technology isn't going away so we may as well embrace it and Bloomz make me want to give it a warm hug.
BIO:
My name is Robyn Plucker. I teach Kindergarten at DaVinci Academy of Arts and Science, located right outside of Minneapolis. I have been teaching for four years - Preschool for one year and Kindergarten for three. I attended college at the University of Wisconsin - Stout and graduated with a B.S. in Early Childhood Education and a Cross-Categorical Certification in Early Childhood Special Education. My husband and I recently got married and moved with our dog, Cooper to New Hope, MN. Our family enjoys ANYTHING outdoors! Camping, fishing, boating, hiking, gardening, and taking Cooper on our nightly walks. Andrew and I also LOVE food. Every weekend we pick a new restaurant to try – we also love cooking together!
Outside of school, you may see me at your local Target or Caribou Coffee. I spend quite a bit of time (and money) there....What teacher doesn't love Target and caffeine!?