Bloomz Wins Tech & Learning Award of Excellence for Back to School 2023
by Nathan Resick, on Sep 15, 2023 10:37:46 AM
We are thrilled to announce that Bloomz has won the Tech & Learning Award of Excellence in the "Back to School" category for 2023! This award is presented by Tech & Learning, the leading resource for K-12 education technology.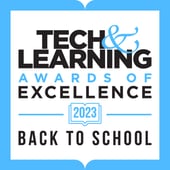 The Tech & Learning Awards of Excellence are awarded to the most impressive products and solutions to help educators in any learning environment. Bloomz was selected for this award because it is the definitive and comprehensive parent-teacher communication app that can help schools improve communication, collaboration, and engagement.
Bloomz offers a variety of features that make it an essential tool for schools, including:
Secure messaging: Parents and teachers can send private messages to each other and group messages to entire classes or grade levels.

Student portfolios: With Bloomz, your teachers can create digital activities, send assignments to students, track their responses, and record them in their Portfolios for easy sharing.

Translation: Bloomz supports over 133 languages, so parents and teachers can communicate easily, regardless of their native language.

PBIS behavior management: Bloomz has incorporated a powerful behavior management system, allowing schools to prevent negative behaviors by reinforcing positive behavior. A positive behavior management system, or PBIS management system, is a proactive approach schools use to help all students succeed.
We are grateful to Tech & Learning for recognizing Bloomz as a leading back-to-school solution. If you want to improve communication, collaboration, and engagement in your school, we encourage you to try Bloomz. You can learn more about Bloomz by clicking here to schedule a product demo. Thank you for your continued support of Bloomz!