Classroom Communication App
by Srishti Mangal, on Jul 18, 2022 10:27:08 AM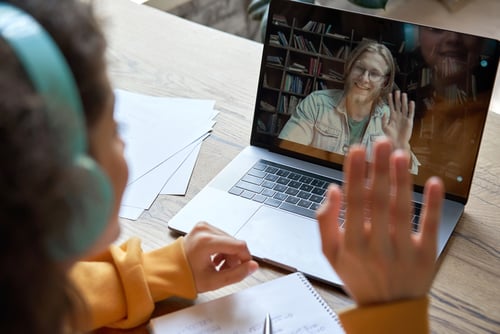 In the recent months, we've seen a sudden surge in the interest of our app, Bloomz. More and more educators are signing up for Bloomz to effectively and thoroughly communicate with parents and students all in one platform. Schools have been reaching out to us and are impressed by how Bloomz seamlessly transforms classroom communication. They mention on a day to day basis about the exceptional and innovative school communication features Bloomz offers. Bloomz equips teachers with tools to build a community within the classroom and reach each participant in a child's education right where they are. This article discusses just some of the ways Bloomz trnasforms classroom communication.
Classroom, Group & Private Messaging
With Bloomz, the teacher parent communication app, you can safely share information through creating posts, scheduling announcements, and group or private messaging. Each feature has method has specific purposes, and in order to be consistent across all grade levels you can follow practices suggested by Bloomz.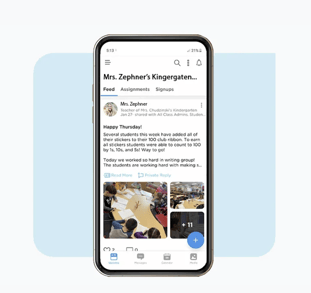 Posts - quick updates, sharing bits of information, receiving feedback from parents through comments, similar to virtual parent board
Announcements - reminders for parents (field trips or upcoming test), stay at the top of the Bloomz home screen for a specified period of time, can announce to class or group
Messaging - direct messaging for personal conversations with parents, can view read receipts, best for specific discussions that involve one person/group
Additional features like direct messaging, and photo, video or document sharing also strengthen family connections and teacher-parent relationships.
Conferences & Volunteers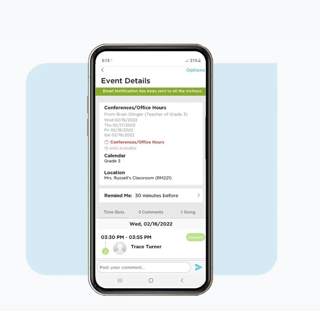 You can now save time by streamlining conference and office hour scheduling, classroom volunteer opportunities, and supply wishlists. You can set up reoccurring volunteer positions, singly, weekly, bi-weekly or monthly so you only have to enter the information once. Bloomz notifies teachers when a parent sign ups and busy parents that can't commit can look atopportunities last minute and if they find themselves free, they can sign up. With these features, you'll have more parents volunteer and engage when you provide them a simple way to sign up with feeling pressure at parent night. Moving on to parent teacher conference features, many educators claim this is the best feature hands down. Instead of having to take hours to organize sign ups, it now takes less than five minutes to send sign up requests to parents. Even better, parents can easily manage their own schedules if something comes up and instead of having to go through you, they just log on, and simply reschedule. Bloomz makes school scheduling and sign ups much easier!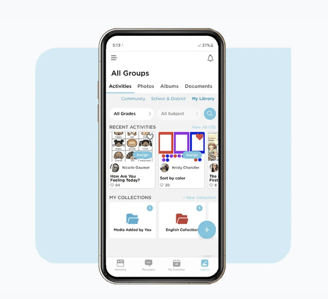 Portfolios, Activities & Assignments
With the Bloomz app, teachers can create digital activities, send assignments to students, track their responses and record them in their Portfolios for easy sharing. You can easily create assignments in Bloomz with many tools to create yourtemplates - draw, type, add pictures & video, or upload files. Once a student submits the assignment, the teacher is notified for review and can accept or send back for revisions before it is approved. Then, once an assignment is approved, teachers can add it to the student portfolio to keep all their progress in one place and keep parents informed too.
Student Access Modes
Bloomz allows you to configure classes for a variety of age ranges.
No Student Access
Shared Access (QR or class code for students)
Individual Access (allows students to message staff, schedule office hours, etc.)