Digital Portfolios: Capturing Student Learning and Progress
by Jude Miqueli, on May 1, 2017 5:51:36 PM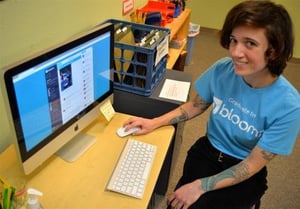 With minimalism and tiny houses being a trend, it makes the most sense for elementary teachers to utilize a digital portfolio for student work. Millennial parents are on the rise and a digital portfolio is much like the Facebook timeline or Instagram feed. The documents will always exist, are easily accessed with a link, and don't take up physical space.
I'm a lower elementary teacher at West Seattle Montessori & Academy. I have a multi-grade classroom with 1st, 2nd, and 3rd graders. I teach math, science, literacy, art, and cultural. This is my first year utilizing the Bloomz digital portfolio feature. I am still in the experimental phase but I'd like to share how it is going so far!
Here are some examples of what I've been posting on my student portfolios: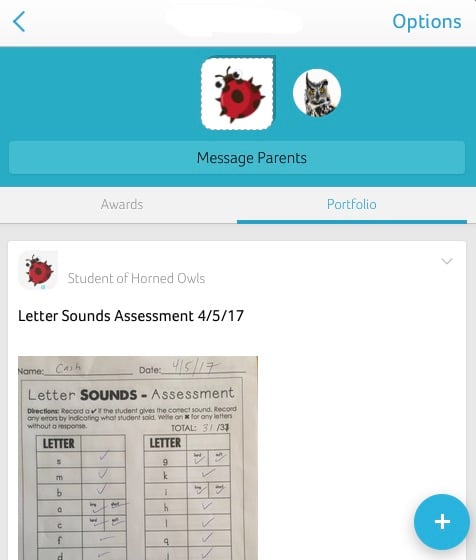 I post a letter sounds assessment in the beginning of the year and another towards the end so that parents can see the changes. I'm posting these in the weeks before our spring parent teacher conferences so that parents have an idea of specific literacy goals that have been achieved and still need work. When I post the assessment in the portfolio, parents learn this information before we meet to chat at conferences. They have time to digest it and can plan on what they'd like to say.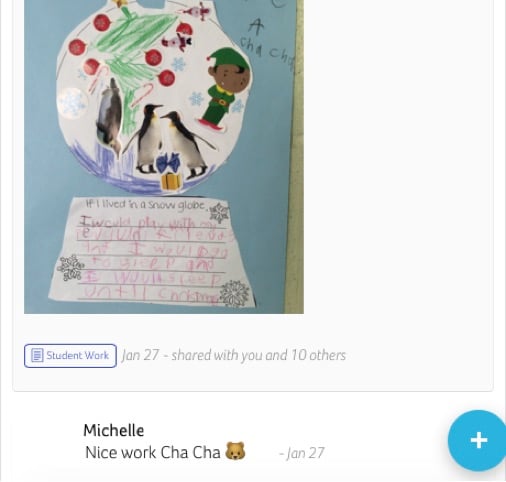 This is a first grade student work sample including art and writing. It's fun to see the parents commenting and including emojis. I didn't even know they could add emojis until it started happening! This type of parent/teacher communication makes sharing student work more like the everyday interactions people are having with their family and friends via text. I feel that it strengthens my relationship with the student families because it adds an element of low pressure easy-going correspondence.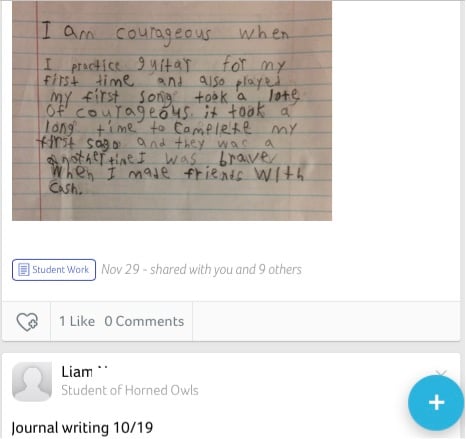 Morning journals are easy ways to capture student writing samples. Punctuation, capitalization, spelling, vocabulary, and paragraph structure are some areas of literacy that can be assessed within journal entries. There is also bit of socio-emotional development included in this literacy sample. With monthly portfolio entries you will see the growth over the course of a school year.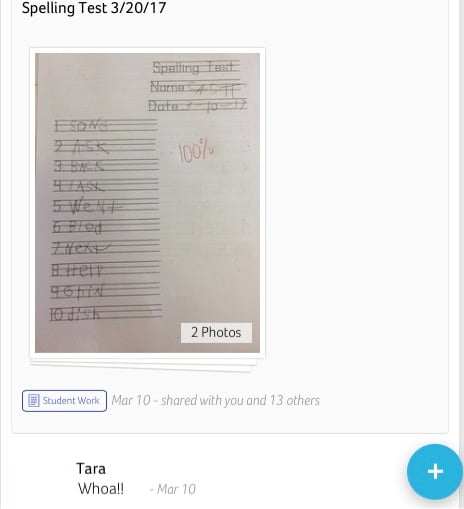 Including a mix of formal and informal literacy work samples gives parents and teachers a full scope of reading, writing, listening, and speaking skills. You can include videos of oral presentations or special occasions as well! For example, one of my first grade students wrote a letter to Attorney General Bob Ferguson. When he received a letter back from the Attorney General, I videotaped my student opening the letter. His parents thanked me for facilitating the interaction and documenting the moment on Bloomz.
You can watch the video here: https://youtu.be/KQWFvCFHa5g (Shared with permission of the Parents)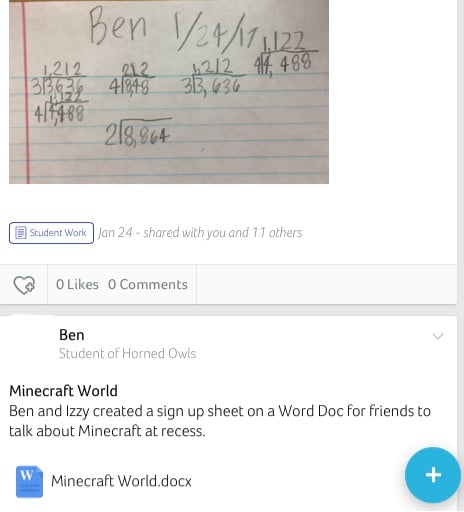 Math and Technology work samples can also be included on digital timelines. I take photos of my students' work and upload them via my phone. You can also email them to yourself with your phone and upload them later via a computer. Files such as Word Documents and PDFs can also be uploaded to student timelines. Parents click them to download or view.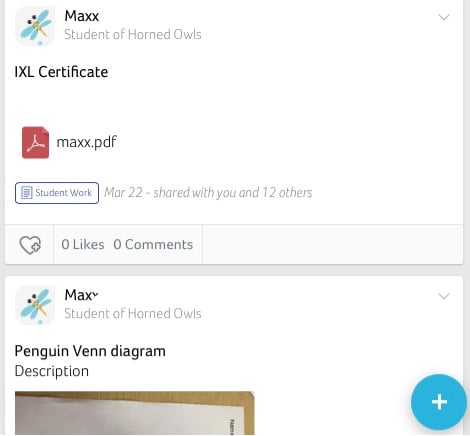 I use the math website, IXL, as a way to incorporate technology into our math curriculum. When students complete a certain number of equations with success, they receive awards. I upload these awards to show student progress on their digital portfolios.
To add variety to the closure of each day, sometimes we meet at circle and gather around my computer to look at our timelines. There is an "award" feature easily accessible right next to the portfolio tab. I open up the awards section and ask my class if they'd like to give an award to a classmate or themselves. This class conversation has provided my students with the opportunity for peer and self-reflection. For example, a student might say, "I had a clean cubby today" or "Ben and Beckett used teamwork during a news report!" I would then award the students.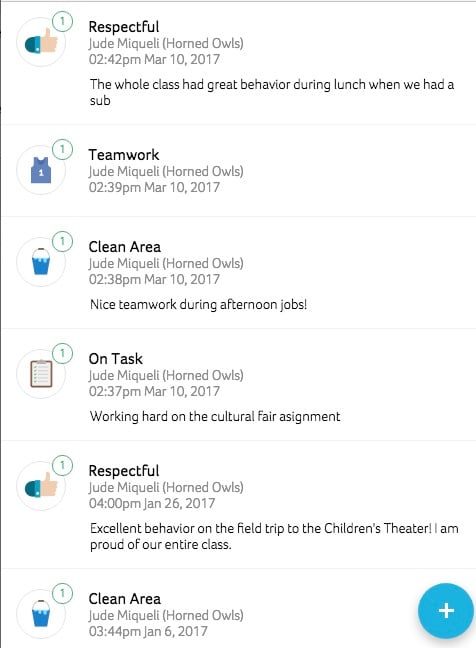 During the day, when students self-assess they select pieces of work and ask me to post it on their timelines. I think this is fantastic because it is an indicator of self-awareness of learning. There is no test-anxiety involved in this form of assessment and students are excited because they are engaging in the process.
One update I might like to see in Bloomz digital portfolios is subcategories for each subject within the portfolio feature. For example, math could be one subcategory. I would upload all math work samples in the math portfolio so that users can scroll down and see just the math progress. Time will tell how these digital portfolios evolve. The tool helps keep parents aware of specific learning targets in my classroom. The communication is constantly flowing. I am excited to see where the technology leads and how it continues to change parent teacher communication and assessment.
Jude Miqueli is a Bloomz Ambassador and teaches first- through third-graders at West Seattle Montessori School and Academy.