Gather Your (Scouts) Troops and Join Bloomz!
by Nikhil Misra, on Apr 30, 2017 10:37:11 AM
We are so excited to share our new Scout Troops functionality which we've designed to help make scout leaders' lives easier, and connect parents with another aspect of their children's world. Scout troop leaders can now create a virtual troop room and stay in contact with troop parents, request for volunteers, and more. All the tools from Bloomz helping educators and parents everywhere are now available to troop leaders and counselors everywhere.
Scout leaders can sometimes feel lost in the day-to-day operation of the troop and all the information they must report to parents. With Bloomz, they can save a great deal of time too by centralizing all communication to parents in one place, they can:
Send quick updates
Upload pictures and videos from scouts meetings, outings, etc
Request volunteer help or items from parents
Keep track of the scouts' behavior according to scout law (specific to boy or girl scouts), and customizing to their own needs.
Parents love Bloomz because it helps them conveniently stay on top of everything related to the troop, stay on top of events and volunteer to get more involved. Plus, because parents can have all the communications from school and their kids' classroom, they don't need to be chasing information in different places, effectively saving them time too!
One of the most fun parts of being a scout is the opportunity to learn new things, discover new skills, and earn achievements. The unique scout profiles in Bloomz gather each milestone of their scouting progression and all the fun memories in one place for them to save and share with family or friends.
What makes Bloomz for Scouts unique?
A very cool feature from Bloomz available to scouts troops is that the behavior management feature, which is set to track scout achievements according to troop law, adapted for both boy and girl scouts:
Boy Scouts Law:
"A Scout is trustworthy, loyal, helpful, friendly, courteous, kind, obedient, cheerful, thrifty, brave, clean, and reverent."
Girl Scouts Law:
"I will do my best to be honest and fair, friendly and helpful, considerate and caring, courageous and strong, and responsible for what I say and do, and to respect myself and others, respect authority, use resources wisely,make the world a better place, and be a sister to every Girl Scout."

How to set up Bloomz for your scout troop?
Within your existing account or when you create one, clicking on "Create New Class/Group" will lead you to a list of options from which you can select 'Troop - Boy/Girl Scouts'. This takes you to a "Create Troop" page where you can specify your troop name.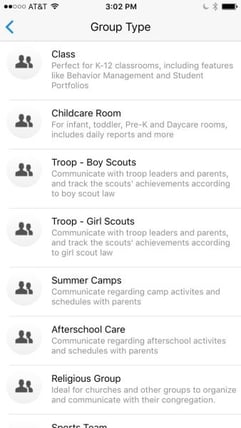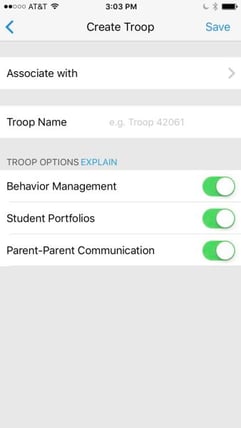 Once you create a Troop, you can apply your themes to it and start adding scouts and inviting parents. Now you are ready to post updates, announcements, and alerts. You can check off scout requirements, send photos and videos, send messages, plan and track activities, and also schedule conferences with parents.
In addition to all the regular communication that goes to all the parents, you can report the behavior of each scout in your troop. Clicking the 'Behavior Management' tab displays your scout's profile photos/avatars.
We've frequently heard from educators and parents alike that they would like to use Bloomz in different settings, and scouts troops were a very common request - so we're really excited to see this come to life.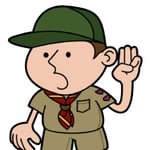 With Bloomz, we believe we can help parents make the most of the time they have with their kids by keeping them on top of the happenings and activities in their day. We also believe we can free up troop leaders and counselors to spend more time on instruction with scouts. This functionality is one more step towards our vision to make Bloomz the all-in-one app that connects parents with their kids world.
Please let us know what you think about this new functionality on Bloomz by adding your comments below. Enjoy!