Happy Teacher Appreciation Week!
by Bloomz, on May 4, 2015 2:58:56 AM
In honor of Teacher Appreciation Week (May 4th through 8th), Bloomz will be featuring amazing educators all week long! Our first teacher is Ms. Hana Toko. I met Hana about 6 years ago when she was hired to work at the school I currently teach at. She is an amazing, dynamic, wonderful teacher and friend.
She took over a classroom that needed some love. She walked right in and those kids adored her from the beginning. The epitome of firm but kind, she knows how to handle any child with grace and honor. It was because of this that my son ended up in her class.
Noah was not an easy kid. He had a hard time hearing anything different than what his agenda was for the day, and made sure you knew he was less than thrilled. But he was also extremely sensitive. If he thought you were upset with him, or looked at him wrong, it was soul crushing. It takes a skilled teacher to navigate through those muddy waters, all the while allowing for that child to be successful and thrive in your environment.
Hana rose to the occasion. Thank you Hana. I cannot thank you enough. I know you have contributed to the amazing things I see in my son today. His resilience, and creativity were sparked in your classroom when he first learned what the word "teacher" meant. He was with her for 2 years- from 3 to 5. He is in the fourth grade now and Hana is still his favorite teacher.
Here is a quick write up I asked Hana to share about her teaching story:
I came to Montessori in a roundabout sort of way. My mother was the business manager at a nonprofit Montessori school in Renton called Cedar River Montessori School. Whenever she needed help at the school I would be "forced" to volunteer. It could have been mucking a creek, cleaning a barn, sheering an alpaca or substituting in a classroom. It was through this volunteering that I truly saw the Montessori magic at work that hooked me for life.
I've been disappointed at times throughout my career because I didn't get to benefit from attending Montessori school. I would have really excelled. Many of my report cards complained about my "excessive talking". I've come to realize I am a verbal processor that could have benefited from collaborative learning opportunities. Today, I work as an Elementary Montessori teacher to provide Montessori learning opportunities for all students. In hopes that Montessori is no longer a specialized program but becomes the norm.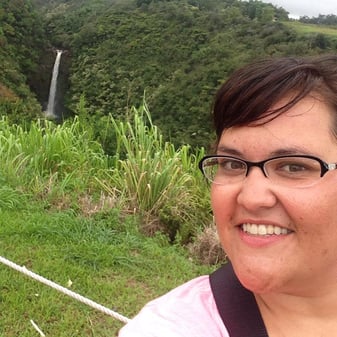 Hana Toko originally hails from Hawaii. She has her AMS Montessori Certification in both Early Childhood and Lower Elementary. She is Mother to her four year old daughter Emilia.