Invite Parents for Read Across America Day
by Jude Miqueli, on Feb 7, 2018 12:03:09 PM
March 2nd is National Read Across America Day! Students from coast-to-coast are picking up books and focusing their attention to the joy and importance of reading. Want to boost parent involvement in your classroom? Read Across America is the perfect holiday and Bloomz has the technology to help! With a convenient sign-up tool to organize parent readers teachers have the opportunity to facilitate a read in. Even better, March 2nd is a Friday this year! You might choose to invite all your parent readers on this day or in spurts throughout the week. Either way creating the sign-up is as easy as one fish, two fish, red fish, blue fish.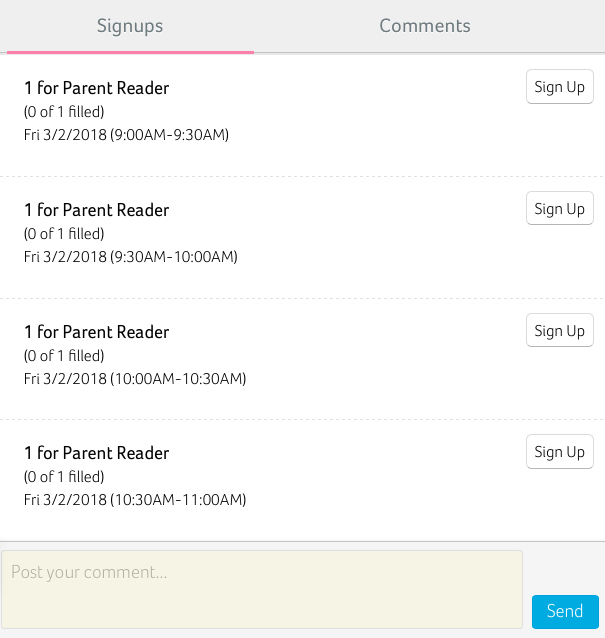 Teachers know that each student brings with them a rich history and culture. There is a wealth of knowledge to learn from every single student's unique heritage. When families are invited into the classroom to read it benefits the entire classroom community. The teacher's responsibility is to facilitate a safe and inclusive space for a diverse community of learners. We do not know everything about every single culture our students embody but we do know how to facilitate learning experiences. Take this opportunity on National Read Across America Day to invite families in to share their favorite books with your class. The positive impact will be long lasting.
For more information on Read Across America Day visit the National Education Association's website for links and resources. Also, be sure to check out Principal Kafele's message to the youth: READING is REQUIRED for YOUR success.
"You're never too old, too wacky, too wild, to pick up a book and read with a child." -Dr. Seuss
Photo by Annie Spratt on Unsplash