[New Parent Series: How to Stay Engaged with Your Child's Education] Tip 1: Communicate
by Horacio Ochoa, on Feb 27, 2017 7:00:32 AM
We at Bloomz are all about parental engagement. That's why we have developed the most complete app to help teachers connect with parents in a secure, easy way. That's also why we've expanded our app to connect Childcare centers with parents, keeping them informed and on top of their kids' daily activities.
Today we started a small effort to share tips on how parents can stay engaged with their kids' education, a brief effort (5 quick pieces of advice) to remind them of the simple day-to-day things they can do to maintain an active role.
Along with our nature, our first tip is about keeping an open communication between parents and kids. Here is the first tip we shared today with parents:
Tip 1: Communicate
Ask your kids about their school day, but make it fun and different every day… "Who did you play with today?", "What did play during recess?" or make it specific to a class (s)he is interested in – "Did you learn anything new in History today?". If you stay on top of projects and upcoming events, it'll be easier come up with more of these questions that will help you stay involved.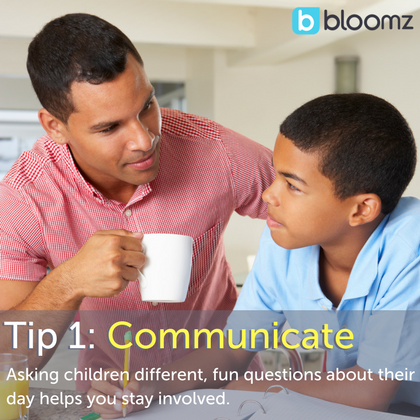 Don't forget to come back tomorrow and the following days to learn about these tips for parents to stay engaged in their kids' education.