[New Parent Series] Tip 5: Reading is a Best Friend
by Horacio Ochoa, on Mar 7, 2017 10:30:00 PM
We finish our series of tips for parents to help keep them engaged in their child's education with timeless advice that has proven to not only help children with their education, but also create a special bond between kids and their parents: Reading.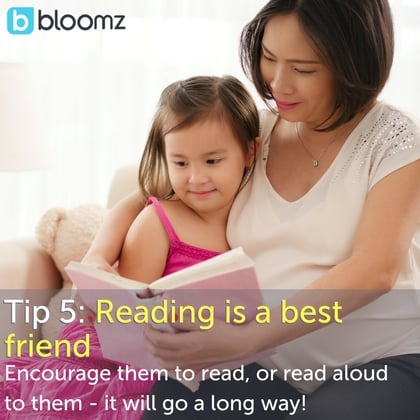 When children read, or when books are read aloud to them, they develop language and listening skills. This prepares them to understand the written word, inspires their imagination, and grows their understanding of the world. You can help them by making sure you keep your home filled with books to read, look at, and provide answers to life's questions. Demonstrating your own curiosity can encourage your children's curiosity, and supporting their efforts to read will go a long way in their learning.
We hope you enjoyed this series of tips for parents, it was really fun to put together. Please share any additional tips for engaged parenting in the comments section below. If you want to check the entire series, click here.
Why this series?
We at Bloomz are all about parental engagement. That's why we have developed the most complete app to help teachers connect with parents in a secure, easy way. That's also why we've expanded our app to connect Childcare centers with parents, keeping them informed and on top of their kids' daily activities. These tips are a small contribution to help parents stay connected and engaged with their kids' education.