Now available! Bloomz with Childcare Functionality
by Nikhil Misra, on Feb 16, 2017 1:09:29 AM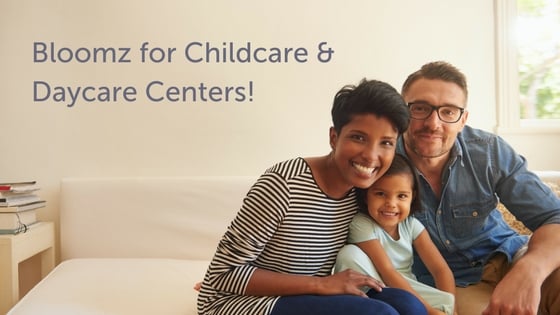 As we recently announced, we are really excited to share with all of you that today we've added functionality to our app to serve childcare and daycare providers everywhere. Along with this announcement, we'd like to provide here some additional information on how to set up and use Bloomz in your daycare or childcare center.
Why is Bloomz expanding to childcare centers?
Bloomz has proven to be a great help to teachers everywhere, helping them save time in their communication with parents. Parents also love Bloomz because it helps them stay on top of everything related to their kid's school. Very frequently though, we've heard from educators and parents alike, that they would like to use Bloomz in different settings and, to no one's surprise, daycare is a very common request - it's a natural extension for both wide-ranging schools and busy families with younger kids.
At Bloomz, we believe we can help parents make the most of the time they have with their younger kids by keeping them on top of the happenings and activities in their day. Similarly to grade-level teachers, early childhood educators have their hands full managing their rooms and centers, in addition to keeping parents abreast with all the information they need to know every day.
With all this considered, we are taking one more step towards our vision to make Bloomz the all-in-one app that connects parents with their kids activities and learning, while also freeing up educators' time to focus on the children's education.
What is different about Bloomz Childcare functionality?
The primary difference in a Bloomz childcare room is the switch from Behavior Management to a Daily Activities Log. With Behavior Management, a teacher uses the app to tell a student if they did well or are off track; with the Activities log, they can use Bloomz to record different events and report out a daily log of the toddler's activities.
A child's daily activities report will show the activities logged for that day, broken down by category. These categories include:
Feeding (Breast Milk, Formula, Lunch, Snack)

Potty (Wet, BM, Both)

Nap (Sleep, Woke-up)

Reminders (Note, Need diaper, Need wipes, need formula, need clothes)

Other (Circle time, incident, play, etc.,)
Summaries are visible within categories as well, breaking them down into the individual corresponding activities (see below).
How to set up a Bloomz Childcare Room*
On your left navigation tray, clicking on "Create New Class/Group" will lead you to a list of options from which you can select 'Childcare'. This will take you to a "Create Childcare Room" page where you can specify your childcare name, room name, and room options.
Once you create a Room, you can customize it and start adding students and inviting their parents. Now you are ready to post updates, announcements, and alerts. You can also schedule conferences and volunteer visits in your room.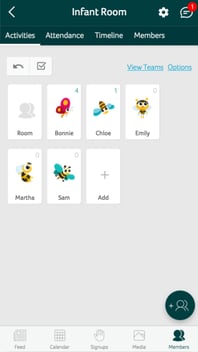 In addition to the regular communication that goes to all the parents, you can start tracking the daily activity of each child in your room. Clicking the 'Daily Activities' tab displays your child's profile photos/avatars. By selecting 'Options' you can customize your room's activity and reminder types. Clicking on a child, you open their daily activity sheet and you'll be able to record activities, and send feedback to parents.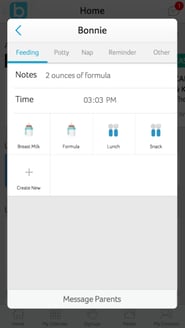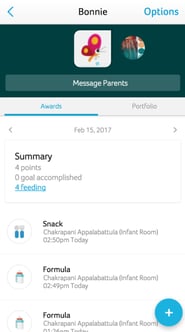 When logging activities for a student, you can also select the 'Reminders' tab to create a reminder for parents, this will send a private message to the parents of the child. Common reminder types state the need for diapers, wipes, formula, or clothes, but you can also create new reminder types.
Daily Sheets/Reports
Tracking what toddlers did through customizable daily reports keeps parents informed of activities and learning moments. At the end of every day (6pm), Bloomz will automatically send daily report emails to the respective parents of each student in their room. Daily reports record all activities including these and more:
Attendance

Meals

Naps

Potty

Classroom Visitations
How to start a Childcare Center on Bloomz
Are you a school administrator using Bloomz for your entire school? Does your school also offer Infant and Toddler programs? Now, you can create "daycare rooms" by clicking "+Add Class/Group" in the Bloomz app left navigation*. If you are a daycare center owner/ admin who wants to do center wide communication and create & monitor rooms, please fill up a request to enable your center at https://www.bloomz.net/schools/. Enabling your daycare community on Bloomz will allow you to manage the center wide announcements, events and facilitate room/child specific communication through one app.
Bloomz is also excited to announce our brand new Content Partnership with Ohio Chapter, American Academy of Pediatrics. Through this partnership, Bloomz will distribute critical information to educate parents everywhere on important issues concerning their children's health, behavior and education. Stay tuned for more on this exciting partnership.
* Childcare functionality is currently available on Web and Android devices. An iOS update with this features will be released soon.