Bloomz Updates from September-October 2020
by Horacio Ochoa, on Oct 28, 2020 9:53:03 AM
The past few weeks we've been making several improvements to our mobile and web apps to continue to offer you the best, most complete communication platform for schools. Here are the latest improvements available in Bloomz:
1. Clever Integration Updates:
We have added Clever Single-Sign-On (SSO) for students to app, allowing new students (whether invited or imported through Clever) to use their Clever credentials to log in to Bloomz.
Clever SSO is also now available for both teachers & students in the mobile app (iOS and Android) using your same credentials.
To learn more about our Clever integration as a teacher, you can go here: Bloomz integrates with CLEVER - You can sign up with Clever now!
To learn more about Clever integration as an administrator, you can go here: Clever School Integration - A Guide for School Admin
2. Students' Phone Number
Many High and Middle School students prefer to receive their notifications via text message, but don't want to miss on the experience of having the mobile app on their phone. Now, they can! Students in middle school and high school classrooms can now add their phone number to their student profile and set their notification preferences accordingly.
To learn more how students can add their phone number, click here: How can I add a phone number to my account to receive text message notifications?
3. Bulk import Updates
If you use the bulk import feature, you know what a time-saver it is. And now, we've added a couple more improvements to make sure you're making the best of this tool.
a. Full Data toggle to let Bloomz know you're updating your whole roster, so missing data in your import will be deleted from Bloomz.
b. Archive option to let Bloomz know any missing classes in your import will be archived from your Bloomz app.
c. Ignore Errors setting so you can continue with the import even if Bloomz detects any issues with the data. But don't worry, Bloomz will send you an email with these issues and you'll be able to see them next time you're in the bulk import feature.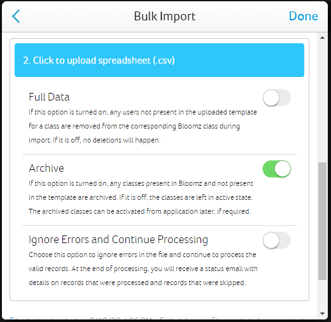 d. We also added a Preferred Language column to the import template, so you can set by default the parents' language if you prefer.
If you want to learn more about our Bulk Import feature, you can do so here: Invite by Sending Bulk Invitations
4. Shareable links for activities & assignments
Lots of teachers have created activities to send assignments to students through Bloomz and sharing with the wider Bloomz community in the Activities Library. Now, you can share a specific activity with other colleagues using a shareable link. Simply go to the "Options" in your activity and click on "Get Shareable Link". You can then paste the link into an email or message to any teacher on Bloomz. Voila!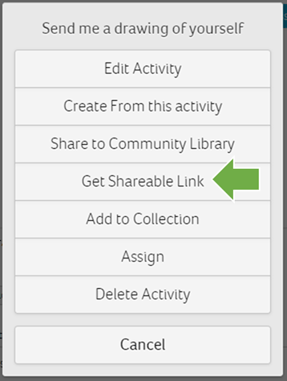 If you've already assigned an activity, you can also get a shareable link for it to share with parents or students by pasting it in a post or announcement. Make sure you're sharing the link from the assignment itself and not from the activity in the library.
5. Other small Health Check enhancements:
Our newest Health Checks feature has received a lot of great feedback from our users, as it's helped teachers and administrators get a better sense of their communities' health situation. As more schools and teachers used the feature, we noticed there was room for improvement that our team was quick to address:
Health tab is now showing for all users;
Improved security allowing submission only by specific users;
Improved accuracy in dates and status of health checks;
New! Administrators now have the ability to delete an Health Check entry.
We hope you find these updates to our app useful and we'd love to hear what you think. Let us know in the comments below.