​​Parent Communication: Better with Bloomz
by Rachelle Dene Poth, on Nov 1, 2016 8:41:55 PM
by Rachelle Dene Poth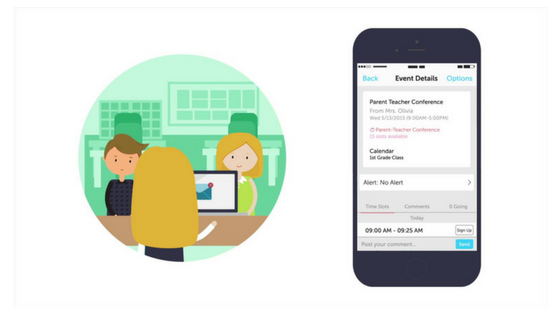 At the start of the school year teachers are often thinking of the best ways to welcome the students back to the classroom, to provide some structure and begin working on relationships and setting the path for learning goals for the year. Part of the beginning of each new year is learning about the students and also making a connection with parents. We have to establish a way to contact the parents so we can share information, learn about each student, and be available for questions. Parental communication is critical for helping the students to be successful.
Communication takes many forms, and depending on the level you teach, sometimes the communication occurs more often. It typically involves sending information home either in paper format with the student, or through email or making a phone call. While these methods are still useful, being able to connect and share information, collaborate and do all of this in a timely manner, is vital to classrooms and developing the sense of community today. Building relationships is critical for student success in the classroom. Teachers need to set up a way to keep parents informed and provide access to classroom resources. Establishing a classroom presence and opening ways for communication are some of the first tasks that teachers take on each year. Finding the best way to do this, sometimes can be difficult. But there are choices available which really make this much easier today.
Communicating with parents
There are many ways to communicate with parents. Teachers can send emails, written correspondence or make phone calls, but with all of the different types of information that has to be shared throughout the year, we need something to make communication easier. With so many technology tools available, tasks such as sending class updates, assignment reminders, creating a calendar, sharing photos and distributing information to parents is easy. Bloomz is a tool which can do all of this and more. It enables teachers and parents to communicate to and share information instantly. Parents can stay informed of happenings in the classroom, and share in the daily experiences of their students quickly through the messaging features.
Bloomz works very well and offers a lot of great features, integrating the features of a messaging app, LMS, an event planner and more. It even offers translation capabilities, 84 languages, which sets it above others making it truly accessible for everyone. Bloomz is available on all devices and as a mobile app. It enables teachers and parents to communicate instantly, privately, and as often as needed each day throughout the year. Privacy is valued and all procedures and guidelines are are in place to ensure that everything shared and exchanged in the messages is secure. By using Bloomz, parents and teachers do not have to worry about searching for a phone number or email because each party can be reached through messaging. It really does make so many tasks easier.
Features of Bloomz
[gallery ids="911,874" type="rectangular"]
There are many features which make Bloomz an excellent choice for teachers to integrate into their classroom. It is free and easy to use, accessible from any device. It is beneficial to teachers and parents because of all of its capabilities that make coordinating and organizing events, planning conferences, and communicating so much more manageable. Some of the features are the calendar and class updates. Teachers can quickly create an event, include permission slips, have a sign-up sheet, track RSVPS, send reminders and more. It is easy to find new ways to use Bloomz in your classroom and a great way to learn is also to participate in the Twitter chats and refer to the Bloomz website for great tutorials and information.
It facilitates communication, collaboration and sharing
It can be used to share photos instantly, for messaging between the teacher and parents and each other. Setting up parent-teacher conferences is so much easier with Bloomz. It enables many different tasks which typically can be time consuming and tedious, to be seamlessly completed within one tool. No need for papers to be sent home, or tracked, because all information is stored and easily accessible within the App. Communication, Coordination and Collaboration are facilitated through Bloomz.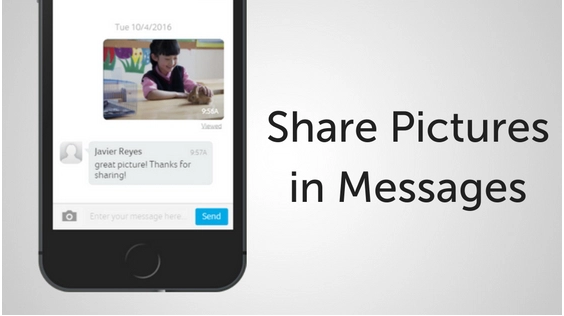 The newest features
As with all digital tools, there has been a lot of research and planning to find new features that can add to the already tremendous capabilities of Bloomz. Just in time for the start of this new school year, Bloomz launched some new features that really add to the communication experience. The new features are a timeline, behavior tracking and video recording capabilities. The timeline is hugely beneficial for tracking student progress over time. By making it possible to create a digital portfolio, monitor student growth, it is a great method for providing evidence of student progress for parents to see, immediately.
With the behavior tracking, teachers can communicate with parents about the student's behavior in class, monitor progress and send reports to parents right away. The behavior is represented by a flower which will represent student behavior and growth throughout the year.
The video feature will be another great addition. Being able to share photos instantly with parents so they don't miss those special moments is tremendous in itself. But having the ability to share a video, will expand on the sharing of moments in the classroom which are not typically experienced by parents. Teachers will be able to share these videos with the parents for them to enjoy and be a part of each student's learning experiences.
[gallery ids="1344,1342,1343,1341" type="slideshow" orderby="rand"]
Bloomz: Connecting and Growing
Using tools like Bloomz really helps to keep parents informed and keep the communication open. Being able to instantly share information, ask questions, keep parents involved with their child's progress is critical for helping the students to succeed. It opens up so many possibilities which truly benefit the learning experience, the relationships which are formed, and provides a very valuable way of staying connected and showing that we are invested in student growth. As a teacher, I am happy to know that parents can reach me and communicate any concerns at any time. It is an effective tool to communicate quickly and to stay connected with parents so that together we can help the students grow.
About Me
I am a Spanish and STEAM Teacher at Riverview Junior Senior High School in Oakmont, PA. I am also an attorney and earned my Juris Doctor Degree from Duquesne University School of Law and recently my Master's Degree in Instructional Technology from Duquesne. I enjoy presenting at conferences on technology and learning more ways to benefit student learning. I am the Communications Chair for the ISTE Mobile Learning Network, a Member at Large for Games & Sims, the Innovations and Resources Co-Chair for the Teacher Education Network and the PAECT Historian. I am proud to be involved in several communities including being a Bloomz Ambassador, Common Sense Media Educator, Amazon Inspire Educator, WeVideo Ambassador, Edmodo Certified Trainer, Nearpod Certified Educator and PioNear, TES Ambassador and ambassador for several other networks. I enjoy blogging and enjoy finding new learning opportunities to benefit my students. You can connect with me on Twitter @rdene915 My personal Blog Site is where I post all prior published blog posts https://rdene915.wordpress.com/
Do you want to write for the Bloomz Blog? Send us a note to marketing@bloomz.com