Recording Access-Bloomz Webinar Series: Bridging the Communication Gap in Education Today
by Bobbi Jones, on Dec 16, 2021 4:32:33 PM
Communication is the foundation of the relationships with your students and your parents. We understand the need to have easy access and easy tools in one place to make communication more effective and consistent. Bloomz knows that determining a Communication Plan in your district, school or classrooms is an important process for intentional and engaged contact with families. So, we started the conversation with educators like you in this webinar series, to dive into "Bridging the Communication Gap in Education Today", and how can you can assess strategies, look at processes, understand expectations, and determine outcomes with the adoption and implementation of a communication platform. We learned a lot and know you will too.
Here is the speaker line up and access to watch the recordings:
What does Communication mean in Education Today?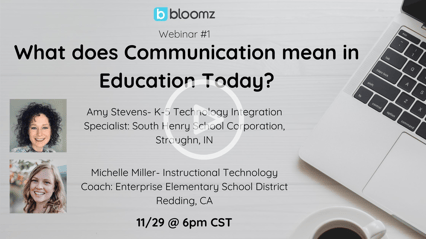 Michelle Miller- Instructional Technology Coach: Enterprise Elementary School District Redding, CA
Amy Stevens- K-5 Technology Integration Specialist: South Henry School Corporation, Straughn, IN
Assessing Communication Strategies to include our Family & Internal Partners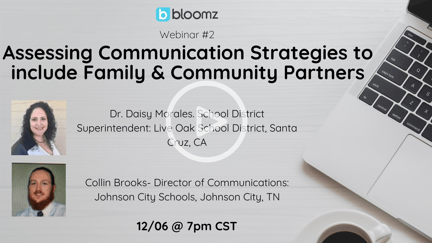 Dr. Daisy Morales- School District Superintendent: Live Oak School District, Santa Cruz, CA
Colin Brooks- Director of Communications: Johnson City Schools, Johnson City, TN
The Benefits of Engaged Communication with Parents & Guardians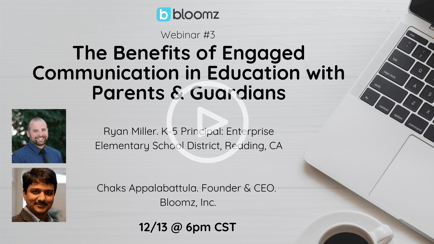 Chakrapani Appalabattula- Bloomz, Inc. CEO & Founder
Ryan Miller- K-5 Principal: Enterprise Elementary School District, Redding, CA