Representation Matters: Your Classroom Library Needs to Reflect Your Students
by Laura Briggs, on Sep 7, 2018 8:42:25 AM

By Erica Bristor
Are you back to school yet? I'm hoping if you are, you and your new community of learners are off to a wonderful start!
Two weeks ago, I welcomed a new set of Pre-Kindergarten students, and I'm thrilled (though already exhausted) to see where this year will take us.
In the hustle and bustle of the new school year, I wanted to take a moment to talk with you all (or write rather) about my favorite thing—books! If you know me, you won't be surprised to hear that I spend much of my free time reading. Along with that, I love researching and finding new pieces of children's literature for my students. Have you put thought into how your classroom library looks? I invite you to do so, and here's why. It's imperative and important.
As a white female, I knew as a child, I never had to look far to find myself represented in picture books. In fact, a brown-haired, brown-eyed female was never hard for me to find, and maybe part of the reason I love reading so much.
Now as an adult and teacher, I recognize the importance of children being able to see themselves in books. "When children cannot find themselves reflected in the books they read, or when the images they see are distorted, negative, or laughable, they learn a powerful lesson about how they are devalued in society." (Tschida, Ryan, & Ticknor, 2014) When selecting books for your classroom library, please pay particular attention to the following:
Texts should serve as windows and mirrors for students. What does this mean? Take a minute to think about what books are available to students in your classroom. What are the stories being told? Who is telling the stories? Who is being left out? Who is being marginalized? Will any child of any race, ethnicity, family structure, or otherwise be able to find themselves in books on your shelves?
Are books available that will serve as windows into the worlds of others? Are book available that serve as mirrors?
What messages do we send kids when they are not represented?
What messages are sent to children when we only display or highlight books from non-marginalized groups?
Being different is A-Okay, and what better way to show our future leaders this than through books! I encourage you to take a good look at your books. How can you improve your library, so all kids are both seen and heard?
You also might be wondering how this relates to Bloomz! Well… this year I got a new teaching job in a new district, and I've been in the process over the past year of updating my library to represent all kids!
A simple thing you can do is create a simple sign-up in your Bloomz Classroom for parents/adults/family members of your students for the books you'd like donated to your classroom library. They can drop their names into the slots for different books they may be interested in purchasing. I have found many have been quick to donate and help build a classroom library for their child to use.
I also encourage you to make an Amazon Wish List and share it as a post and message to your class. Families then have the ability to purchase items and send them directly to your school. You can also share your wish list link with friends who may be interested in supporting you too!
I will end with this. I have a little girl in my classroom, and I read the book Alma and How She Got Her Name to my class last week. "If you ask her, Alma Sofia Esperanza José Pura Candela has way too many names: six! How did such a small person wind up with such a large name? Alma turns to Daddy for an answer and learns of Sofia, the grandmother who loved books and flowers; Esperanza, the great-grandmother who longed to travel; José, the grandfather who was an artist; and other namesakes, too. As she hears the story of her name, Alma starts to think it might be a perfect fit after all — and realizes that she will one day have her own story to tell."
Later on that day, I found one of my little girls reading the story in the Library Center, and I overheard her telling another child in the class, "I love this story because Alma is just like me. I have a long name too, and I need so much paper to write, but it's okay because my long name makes me special." Cue the teacher waterworks. The significance of this story, while it may have seemed small to me, truly meant so much more to one of my students. I believe all my children deserve this same opportunity. Be the teacher who allows children to have these moments by providing books with mirrors and windows.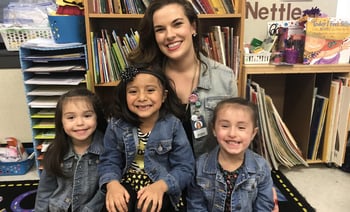 Erica Bristor was previously a pre-K teacher at Aldine ISD and now teaches in Spring Branch ISD near Houston, Texas. Erica continues to volunteer as a Bloomz Ambassador.