Simple Steps for Positive Communication
by Jennifer Thompson, on Feb 18, 2022 3:07:21 PM
Let's Get Real
5:30am. It's a school day, and my husband and I get up to tag-team the daily routine of getting 5 kids to where they need to be for the day. Let's get real…it's not easy balancing life and work, especially nowadays. In our home, we are balancing ages 2-15, sprinkle in emotions of growing-up and special needs, to make for some interesting days. I mean…talking to one daughter about her High School dance while trying to wrestle a squirmy two year-old into shoes, makes for the day's workout.
Over the years we have found what is necessary for our days to work, no matter if they are joyous or frustrating days. Communication! That's what makes a difference in a home and in a classroom. Words matter. Families matter. Students matter. How can you create effective, open communication in your classroom and with families?
Simple Communication Tips

Make Connections
Make families feel welcome in your classroom, in whatever way they are comfortable. Tell families about yourself first. Create a 'Get to Know Me" letter or picture book to add for some fun! Ask questions and make connections with families and students too. Parents are more open to receiving input when they know you are interested in them as well.
Use Names
Make sure to greet and address children and families by name. This not only will help you in the classroom to remember, but also help families to know they truly matter. You can also provide a name display of children's names in the classroom and a photo nearby. This is particularly helpful during the early portion of the school year and for substitutes who might be visiting throughout the year.
Stay Positive
Share positive information about each child. Families are having a hard time balancing life and school with their child too. Think of it like a mountain! Make sure to share the victory "peaks" so you can work out the "valleys".
Photos!!!
Every parent enjoys knowing their little one is learning and growing. The photo you take can make the difference in a parents day!
Weekly Posts
Posting updates on what their child is learning each week helps families to know what's happening and to help at home with concepts too. Keeping families informed on your end will open up for families to keep you informed on theirs.
Providing Difficult Feedback
Sometimes providing difficult feedback is necessary for parents to be aware of, in order to partner together in the interest of a child's growth and learning in a classroom. What is a positive way to communicate this to families? First, you can start by discussing their child's strengths at the beginning and then again at the end of the meeting. Each child, even if struggling, brings something positive to a classroom. Allowing for positive feedback to support the concern will help families to know you are on their side.
Use an App
Utilizing an app, like Bloomz, can provide for a simple way to communicate with families. Calendars, photos, messaging, posts, sign-ups, and more are provided in one location. Keeping communication in one place provides for parents to view you as 'reachable' and 'approachable'. The ease of being able to reach out and be heard is vital.
Wrap it Up!
We all have busy lives, but by connecting and communicating we are able to navigate classroom and family lives together. Over the years I have found that even though I am leading families to help their child grow into lovely young citizens , they are also wonderful resources for me as well. Families have taught me to strive to be a better person too.
About Jennifer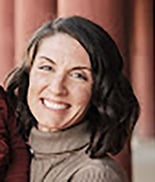 Jennifer is a teacher, wife and mom of 5 kids, 2 of whom are internationally adopted. She has been teaching for 15 years and is finding new ways to connect with students and families. The parenting experiences that she and her husband have has been the best tool for sharing with others. With 5 kids, and with varying special needs mixed in, it is easy to let families know that teaching and raising children is no easy task, but with sharing experiences it can be the most rewarding journey.