Sneak Peek - Student Timelines from Bloomz (coming Aug '16)
by Nikhil Misra, on Jul 25, 2016 1:57:29 PM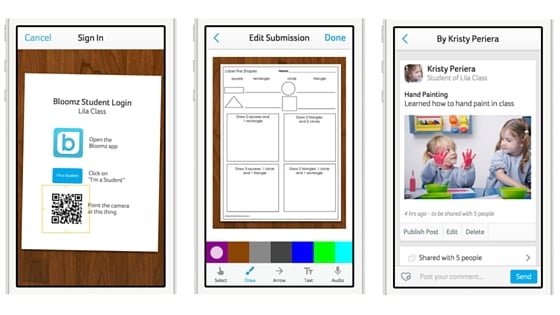 What are Student Timelines?
Student Timelines are our latest feature that allows teachers to share student work with parents. From the beginning to end of the school year, students and teachers can upload instructional work items to build a collection of student experiences and projects—within the security of the Bloomz app. This collection of a student's work is then added to their individual timeline and updated instantly as it grows. Throughout the school year parents can easily review their child's progression in one place, enabling parents to review the great work their child is doing. The student timeline also lets the teacher assess student work as they submit items for approval.
Empower students
The Bloomz Student Timeline empowers students to document what they are learning in school by uploading photos and videos of their work. The app organizes everything in a single location to be shared with their parents. Retaining a collection of learning moments puts parents, teachers, and students on the same page; thus creating transparency ensuring parents are informed. Parents can review student work at home so students can better understand the skills being practiced.
Get everyone on the same page
The Student Timeline is a collection of various contributions to the student's profile. These can include student work submissions for all subjects. When a student's work is approved/published by the teacher, a real time update is sent to the parents of the student. Parents will be notified via email/push notifications. The update can be viewed in the parent's Bloomz feed and is also added to the Student Timeline.
Why is Bloomz adding Student Timelines?
In our vision to provide one single app that provides all the tools teachers need to communicate with parents, the students' work is an important component in the communication flow. We began with feedback from teachers and parents as we were designing the portfolio feature, and filled in the gaps that existing solutions don't cover. Here are a couple of examples of how we developed our vision:
Feedback from Teachers & Parents:
There are too many different tools across multiple information outlets to send and receive feedback about students' work from the classroom.

Existing student portfolio solutions may not transfer from year to year, across grade levels.

In other existing student portfolio solutions, parents are not able to access the student timeline and they only receive an email about the submission.

Students can only submit the pictures or videos that they have taken.
Bloomz approach:
Bloomz complements its existing communication tools with Student Timelines. Teachers can now compile all student work with minimal effort, from one location, making for more meaningful communication with parents. This gives parents a larger window into what work is being done in the classroom.
With Bloomz, students and teachers save a portfolio of classwork items across multiple years/grades, allowing future teachers to better prepare and adapt to the student needs based on past projects, assignments, and areas of interest or pride expressed by the students themselves.
With Bloomz Student Timeline, teachers are always in control. The portfolio is still primarily student-driven (photo and video submission via all devices), however, all submissions are reviewed, edited if need be, and approved by the teacher before they appear in a student's portfolio and are sent to parents. Whether it's a class admin or the student submitting student work, it gets forwarded to the teacher for approval.
Parents have access to their child's timeline, and receive real time updates with push notifications in addition to email.

Students have the option to annotate their submissions with text, drawings, and audio.
Student Timelines are not only excellent for documenting and viewing memorable learning moments, but they can also be used by teachers and parents to identify a child's strengths and areas for improvement. By collecting student work in one place, they also help create a common understanding in preparation for parent-teacher conferences.
This upcoming feature continues to make Bloomz the all-inclusive, one-stop parental engagement app on the market. We hope this new feature makes recording student work and communicating with parents faster and easier. We welcome your feedback, and encourage you to tell us what you think in the comments section below.