Teacher of the Week: Becky Fritchie
by Laura Briggs, on Mar 19, 2017 10:01:05 PM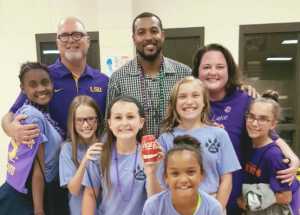 This week's Teacher of the Week is a very passionate teacher who shares her love of learning with all through her contagious happiness and love. She also presented on Bloomz with colleagues at the TCEA Tech Conference in Austin, Texas in February, 2017.
I'm a helper by nature. I love being creative and sharing that creativity with others. My mom is truly the inspiration for my career choice as she was a teacher prior to her retirement. The hours were long, the work was endless, but she sincerely loved her time with her students and that passion manifested itself in her students' success. The joy that comes from seeing others succeed and grow from your contribution of time, love, and effort is the best part of calling teaching my "job".
What is your greatest teaching moment?
My greatest teaching moment came when I was sitting at my son's middle school football game. (Technically not teaching… but let me explain…) My former students regularly attend the games and love to run up, give hugs, fill me in on all of their new life experiences, and then go on with their friends. One student, who will always have a special place in my heart even if this encounter never happened, sat with me and my family to watch the game. After some small talk, he says, "I always loved your class because even if I wasn't having a good day, you'd always cheer me up. Learning was effortless and fun in your class. You always were smiling and just made me feel happy even if it wasn't a good day." Thank goodness for sunglasses to hide the tears. To know that he carries happiness as his lasting memory is the greatest feeling. There's no test, score, or grade that can show that success, but I consider that my greatest moment.
What is your advice for teachers who are just starting out?

Be the teacher you'd want for your child. That has stuck with me from the first time I read it. Everytime I feel myself getting upset with a child who isn't "getting it", I think about my son's struggles with his academics. When I'm aggravated because of the "talker who won't stop", I think of all the calls I've gotten about my own child's inability to be quiet! I think about how I would want his teacher to handle the situation. I consider how I would like to be contacted regarding any incidents. I remember that I have someone's whole world sitting in my class, going through their own struggles, and dealing with their own issues. If teaching has done anything for me, it has taught me empathy. Everyone is doing the best they can and it is my job to guide them if they happen to stray. Help your students be their best by always striving to be your best.
What is your favorite children's book?
I suppose it's no surprise that my favorite book is The Giving Tree. Even when it is unnoticed, unrecognized, or even unseen, I hope I never lose the desire to give all that I have to help others.
What do you love about Bloomz?
My favorite feature, among the many to choose from, is Conference scheduling! Y'all! GAME.CHANGER! I.CAN'T.EVEN! How did I ever schedule before Bloomz? It really doesn't get any easier. Parents love how simple it is to sign up and their ability to make changes if unforeseen circumstances arise. It really has saved me so much time and stress when conferences come around. I LOVE this app!
Becky Fritchie graduated from Louisiana State University, and is currently in her 8th year of teaching. She teaches Fifth Grade Science and Social Studies at Spanish Lake Primary. Becky has been married for 14 years to her AMAZING husband, Luke, and she is a mommy to two handsome young boys, Corbin (13) and Cohen (3)... and two slightly smellier boys (puppies) Fynn and Shep.
If you'd like to participate in the Teacher of the Week program, please visit our page here and let us know about you, we'd love to hear your story!