Teacher referral rewards are back! (but hurry, it's for a limited time)
by Horacio Ochoa, on Jun 16, 2016 1:05:16 AM
The school year is almost over, and teachers are getting ready for a well deserved rest. Yet, many teachers are already thinking of ways they can get a head start on next school year, and what a better way to do this than to get started on your classroom fund! As always, Bloomz is here to help....
By popular demand, teacher referrals are back again! Now you can get started with your next year's classroom fund by sharing Bloomz! With teacher referrals, you can earn up to $500 when you share Bloomz with other teachers and they sign up for a Bloomz account*. Here is how:
You share Bloomz with other teachers
They sign up for a Bloomz account
For every 5 teachers who sign up, you get a $5 Amazon gift card
It's that simple! and to make it even easier, you can invite teachers in different ways:
Via the app
You can invite teachers in your school by using our 1-click invite inside our app (only available to some teachers):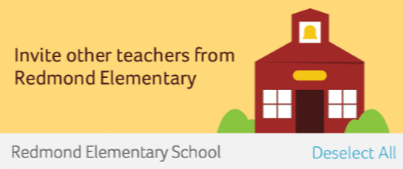 You can also invite other teachers you may know by email, simply click on the "Invite" link on your app's menu and enter the email addresses of your colleagues using your default email app:
Via social media
If you recently received an email from us about teacher referrals, the email will include two buttons to share on social media - simply click on them and people who sign up through them will be automatically credited to you! You can also take the link in our "Invite" feature (see screen above) and copy it to your Facebook or Twitter profiles:
Share on your blog or via email
As mentioned, you can also take the link provided inside the app to share with others on your blog or via any email software. Remember to always head to the "Invite" feature in your app's menu to grab the link - this will ensure you get credited for the teachers you invite and join.
Please share away and start building your classroom fund now!
Thank you,
The Bloomz Team