Tip: Choosing An Event Type For Your Class
by Bloomz, on Jun 29, 2015 11:40:49 AM
Being a teacher, I like to organize…. my classroom. The more color coded I can be- the better. I love matching baskets. I freak out over the dollar section at Target. One year they had these awesome wood trays that I am still waiting for their majestic return. I swear places like Pinterest and Storables were created just for me. And don't get me started on a label maker!
So when I signed up for a Bloomz account and the events had little color coded names with symbols, it was one more thing making my teaching life complete. Now, when I open my calendar in Bloomz, I have a great visual of what is happening in my classroom.
To find these lovely little labels, just open a new event page. At the very top left, you will see a turquoise calendar image with "event" next to it. Click on it. This will bring you to the Event Types screen.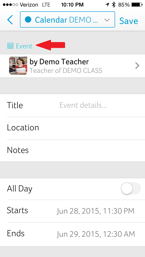 Your options are-
Selecting any of these will bring you back to the create events page with the icon embedded in the event itself. Parents can also use this feature if they are using Bloomz to invite the class to a birthday party, organizing a carpool, or requesting some pick up help from other parents.
When you save the event, the icon shows up as a quick glance within your calendar headings. Perfect for my organizing eyes….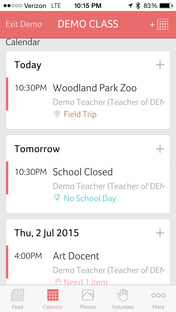 One more quick tip-
Did you know you could change who is sending the event? If you click on your name, you can choose between yourself, and the class. I tend to use my profile as the author for posts, and my classroom for events.