Now Live! Discover Student Timelines from Bloomz
by Nikhil Misra, on Aug 10, 2016 11:23:54 AM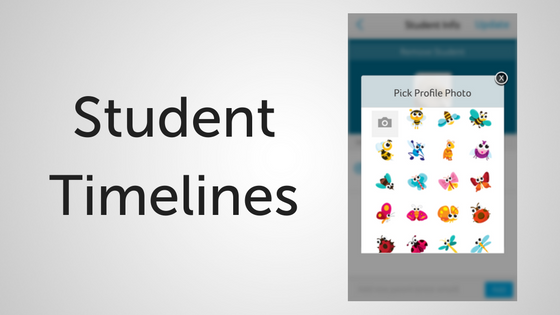 Update: Student Timelines is now available in all Web and iOS and Android Phones!
As previously announced, Bloomz is adding major new functionality to its award-winning parent communication app in time for the new school year, including student-led portfolios and behavior management.
Today, we are excited to announce that Student Timelines are now here! This new functionality allows teachers to share student work with parents throughout the school year. Students and teachers can upload instructional work items to build a collection of student experiences and projects, and teachers can assess student work as items are submitted for approval, all with the familiar, secure, and easy to use Bloomz experience.
Capture learning developments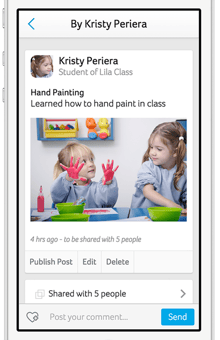 From classroom activities and projects to student presentations and written reflections, Student Timelines document and save everything in one place. Photos and video taken by students and teachers are shared with parents after approval from the teacher, allowing everyone to relive and share pivotal learning moments.
Watch the evolution of student work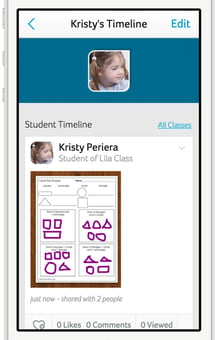 Teachers can document their students' projects, recollect and plan from prior classroom activities they've conducted, and measure the impact they have in the classroom for each individual by watching the student's work grow throughout the year. When it comes to keeping parents informed about their child, Student Timelines make the teacher's life a whole lot easier by capturing activities, assignments, and improvement throughout the year.
Parents can witness the magic of their child's learning right before their eyes, with the evolution of their work throughout the year, and over multiple school years. Parents can have an unbelievable amount of material from kids' work that accumulates over time, and now Bloomz allows parents to keep everything digitally so they can guiltlessly dispose of that cache!
How to access the Student Timelines feature and start using it
We welcome you to try Student Timelines now on an existing class, or give it a trial run in the Demo Class. Select your class from the left navigation bar and you will receive this notification: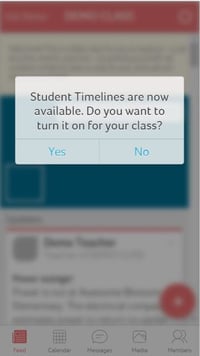 If you missed this notification, go to class settings (by clicking on the cog at the top right of your class page), and you'll see the setting as in the screen below: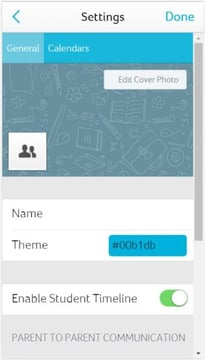 Every time you create a new class, you'll have this setting available to you.
How it works
Students:
Students can photograph projects, or presentations and follow simple instructions to draw on top of the picture, and to submit within the Bloomz app (video recording of work and audio annotations are coming very soon). Students can upload any picture added to the camera roll and seamlessly submit to their Bloomz timeline for approval.
Teachers:
Teachers can upload a student's work, edit or annotate them, and publish immediately to parents, also adding the work to the student's timeline. When a student submits work, it will be shown in the review list for the teacher to edit, discard or publish the work as is. Once the teacher publishes the student submission, it shows up on the parent's feed and gets added to the student timeline.
Parents: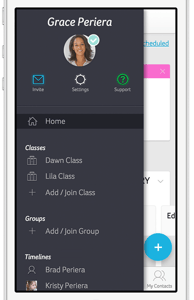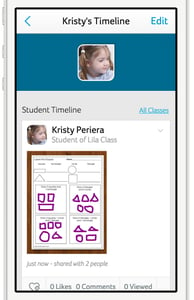 When student work is approved/published by the teacher, real time updates are sent to the parents of the student and they will be notified via email/ push notifications. The update is then added to the Student Timeline and seen in the parent's Bloomz feed as well.
FAQ
Q: What if our classroom does not have iPads for students to photograph or take videos?
A: The teacher can also submit the student work to any student's timeline within Bloomz. Just take pictures of the student work and submit it through phone or desktop.
Q: How can timelines be used with just one or a few iPads or other devices?
A: Students can submit work via iPad and iPhone (Android coming soon!) Parents can submit work for students from desktop, the iOS app, and the Android app.
Q: Do student submissions go straight to parents?
A: Teachers can directly add posts to any student's timeline, and all timeline submissions from students are sent to the teacher to be approved or edited before the posting to the student's parents. No matter who submits the student work it will show up as submitted by the student.
Q: Are there assessment applications built in to Student Timelines as well?
A: Teachers can use student activities submitted in Bloomz for assessments. For example, a student reading a passage in a book could be used to assess fluency and vocabulary. Another example could be for students to import something they created in another app that could be used for an assessment. Having the opportunity for students to complete these activities and submit them saves time for the teacher, as individual assessments can be conducted without taking up class time.
Q: Can teachers disable this feature?
A: Yes, the Student Timeline feature is one option from the Bloomz arsenal for teachers to choose.
Q: Can other parents see a student's profile and timeline?
A: No, other parents cannot see a student's profile and timeline, and there are not publicly accessible timelines for the class that all parents can see. Teachers cannot see the class timeline either, instead they will have to click on each student to see their individual timelines. They can always view student works from their Home page.
Q: I have an Android Phone and can't see Student Timelines, What's wrong?
A: We just released Student Timelines in our iOS and web apps. The Android app is being finalized and will be available in the Google Play store later this week. If you have an Android phone, you can start familiarizing with Student Timelines on your web browser before the imminent release of our Android app. Thanks for your patience.
More Help and Support Information can be found here.